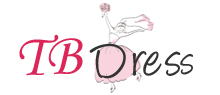 (PRWEB) June 05, 2013
Recently, TBdress.com, a leading supplier of women's dresses, has introduced its latest wedding dresses, trumpet wedding dresses, and announced a site-wide promotion of women's dresses, which will end on June 18, 2013.
The trumpet wedding dresses are specially designed according to the latest trends that have occupied the entire market. These dresses come in beautiful styles and chic colors. They are featured with elegant one-shoulder dresses, terrific strapless lace dresses, plus size wedding dresses, and more. Moreover, TBdress.com is offering these stunning outfits at reasonable prices.
At TBdress.com, customers are placed at the top priority, and their desired fashion and satisfaction level is equally considered. The business has fulfilled its promise of providing high quality garments with low prices, and is keeping its tradition of providing the best to its clients. All kinds of outfits offered are fulfilling customers' wants in the best possible way.
"We are very happy to introduce out new designs, and launch the promotion. Our trumpet wedding dresses are designed especially for your beautiful brides who don't compromise on fashion and quality. Please note that the promotion is valid for two weeks only, ending on June 18, 2013," says, Edmond Liu, spokesman for the company.
About TBdress.com
TBdress.com is offering extensive and stylish collections of wedding dresses and other special-occasion dresses at acceptable low prices, and its products include a wide range of wedding dresses, wedding lingerie, evening dresses, prom dresses, and more. They have vowed to provide their own wedding dresses without sacrificing the top-quality materials and fast delivery.
Their website can be visited at http://www.tbdress.com.