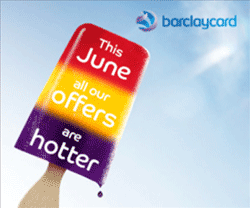 We have already seen both Tesco and Virgin challenging Barclaycard's supremacy in the credit card market and if competition maintains its current pattern it could be a great summer for UK consumers
London, Edinburgh, Cardiff, Belfast (PRWEB UK) 5 June 2013
Summer appears to have come early for UK credit card customers with Barclaycard's launch of their "June Offers" which add additional perks and benefits to a number of products already considered to be amongst the best in the market.
Highlights contained within the range of offers (which affect practically every Barclaycard product) include; transfer fee reductions to a number of balance transfer products. For instance, Barclaycard Platinum 27 month transfer (the UK's longest balance transfer product) has seen its fee drop from 3.5% to 2.98% (the original fee had already been discounted from 3.9%) whilst the slightly shorter 25 month transfer product now boasts a fee of just 2.04% (the lowest balance transfer fee amongst the leading balance transfer products).
Changes have also been applied to a number of other Barclaycard products. The Platinum Purchase card (which offers 14 months 0% purchases together with 14 months 0% balance transfer) has seen its transfer fee drop by 15% to 2.47%, whilst the Barclaycard Initial, a very popular credit building credit card, now offers 5 month 0% interest on new purchases (which is unrivaled in the credit building segment of the market).
Barclaycard have also launched a new product to sit alongside their market leading portfolio. The Platinum balance transfer low rate card offers customers a low rate of just 2.9% interest for 15months with a 0% fee for the transfer (a product which could be very attractive to those likely to be able to pay off their balance in the near future.
A spokeswoman for uk.creditcards.com commented on the Barclaycard changes :
"Barclaycard have traditionally offered some of the best UK credit card products and with changes they are certainly upping the ante."
"Of course, this is all great news for people looking to transfer a balance or even people looking to rebuild their credit, but who have short terms expenditure they are expecting to make."
"What other credit card issuers do in response is going to be interesting. We have already seen both Tesco and Virgin challenging Barclaycard's supremacy in the credit card market and if competition maintains its current pattern it could be a great summer for UK consumers."
_______
Based in Colchester, Essex, uk.creditcards.com is one of the UK's leading credit card websites. With great tools, tips, news & comparison tables, uk.creditcards.com helps UK consumers compare credit card products (from balance transfer to bad credit) to ensure they get the best product for their needs.