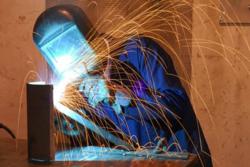 Bolton, United Kingdom (PRWEB UK) 13 June 2013
Unfortunately welders are at risk from various job hazards including loud noise, blinding light, intense heat and breathing in potentially harmful welding fumes. (1)
Fumes are a by-product of any type of welding; according to the City Herald, few people are actually aware that the exposure to certain chemicals or heavy metals can have a substantial impact on a person's hearing. These fumes, when combined with loud noise can cause much higher levels of industrial hearing loss than either type of exposure alone. (1)
Recently, manganese in welding fumes has been closely investigated.
According the City Herald;
"Of the many neurological effects caused by high levels of manganese exposure, animal studies have shown that even low levels of exposure can cause permanent damage to the auditory nerve fibres and sensitive cells of the inner ear." (1)
Because of the many hazards that welders are exposed to on a regular basis, it's especially important that employers are conscious of the potential impact various materials can have on their employee's health. This can help prevent and minimize dangerous exposures. Welders should also take an active part in hearing conservation, to prevent industrial hearing loss and should have their hearing tested annually. (1)
Suzanne Yates, Asons Executive for Asons Solicitors, commented that:
"Over 10 million people in the UK are affected by hearing loss; employees who have developed hearing loss whilst working in a noisy environment may be entitled to hearing loss compensation."
Asons state how welders can reduce hazardous exposures, minimising the risk of industrial hearing loss:

Make sure employees are familiar with the materials you are working with. Familiarising employees with the materials that they are working with will educate them on the potential levels of exposure that you could suffer from when using a particular type of welding rod or material.
Never weld on painted parts. Ensure that employees remove all of the surface coating before welding begins.
Ensure employees to keep their face away from the welding plume whilst working. Always ensure that work takes place in a well ventilated area and wear respiratory devices when necessary.
Ensure all employers are provided with the correct safety training.
Ensure employees are protected from exposure. Make sure that any clothes that could be contaminated with any hazardous materials are removed before employees leave your place of work.
Asons Solicitors suggest that if someone would like to learn more about the industrial hearing loss compensation process, or if they would like to better understand industrial deafness, that information is available at http://www.asons.co.uk, or via an expert helpline on 0844 850 1062
(1) Welders at increased risk of hearing loss - http://www.tri-cityherald.com/2013/05/21/2402400/welders-at-increased-risk-of-hearing.html#storylink=cpy – Tri-City Herald May 2013
About Asons Solicitors:
Asons Solicitors is a Bolton-based law practice that specialises in personal injury and industrial disease claims. Founded by brothers Imran Akram and Kamran Akram, Asons Solicitors has developed to become a young and dynamic law firm that delivers practical solutions to clients in times of difficulty. Their continued focus on their staff has seen them awarded with the Investors in People "Gold Award"; which is reflected in the professional and personable approach they take in working with clients. They strive to grow and to develop, and their supportiveness and attention to detail ensures that their clients use them time and again.
For further information contact:
Email: info (at) asons (dot) co.uk
Website: http://www.asons.co.uk