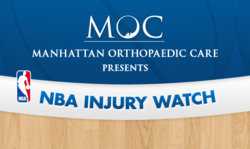 Chris' ankle injury appears to be fine, but certainly might throw off his game enough mentally to affect his shooting ability and perhaps how he handles the pain
New York, NY (PRWEB) June 06, 2013
Monday night was Miami night. They proved to be a dynamic opponent on the court and are off to their second consecutive NBA final. Right now the Miami Heat have three days to rest and recover after seven intense games against the Indiana Pacers. Their final opponents, the San Antonio Spurs, were swift shutting out the Memphis Grizzlies 4:0, and have had plenty of time to recover.
Miami's biggest concerns right now are the injuries of Chris Bosh and Dwayne Wade, whose status are set as Day-to-Day. During Game 4 of the East Conference Finals, Chris Bosh was forced out due to an ankle injury. At the start of Game 5 he further tweaked the ankle injury, but continued playing, expecting that the injury won't affect his game. Unfortunately, he struggled with shooting and his effectiveness has been limited. Discomfort in the ankles can easily defocus any player.
"Chris' ankle injury appears to be fine, but certainly might throw off his game enough mentally to affect his shooting ability and perhaps how he handles the pain", expresses Dr. Armin Tehrany.
Dwayne Wade's status is also Day-to-Day. Throughout the playoff games Wade has been struggling with a painful knee injury. As a result, he failed to register 20 points in his previous games. Wade's under special training routines to deal with his knee injury. The loyalty to his team is keeping him on the court even though he is hurting.
"It doesn't matter. I'm playing basketball. I will continue to do what I need to do to help my team win a championship." he said.
"Dwayne has been dealing with his knee issue for a long time. He appears to know how to work through it until the season ends. What he may need to do afterwards is another issue. We have ways of keeping the pain limited for now", says Dr. Armin Tehrany, Clinical Assistant Professor in the Department of Orthopedic Surgery at Mount Sinai School of Medicine in Manhattan, New York.
The NBA Finals begin on Thursday at American Airlines Arena. Game 2 is on Sunday in Miami before the series shifts to Texas for next three games.
The last NBA Season caused turning points for many players who got injured and had to leave the court. The NBA Injury Watch prepared by Manhattan Orthopedic Care shares information about injured players from all NBA teams and gives the NBA fans insights on when the stars will be back in the game. The complete Infographic with details for all injuries is available here.
###
About Armin Tehrany, M.D.
Armin Tehrany, M.D., is a board-certified physician at Manhattan Orthopedic Care. Although he specializes in minimally invasive treatment of the shoulder and knee, he treats all types of orthopedic conditions, including those of the upper extremity, lower extremity, and spine. Dr. Tehrany serves as assistant clinical professor of orthopedic surgery at the Mount Sinai School of Medicine in Manhattan. He is on the Board of Directors for the New York State Society of Orthopedic Surgeons, as well as the Physicians Advisory Board for the New York County Medical Society. His current interests involve the development of minimally invasive techniques in the management of shoulder and knee disorders.