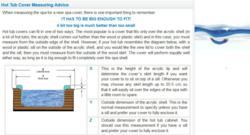 Easy to use, tailor-made hot tub cover ordering system...
Alton, Hampshire (PRWEB UK) 5 June 2013
Splash Spas UK Ltd is launching a unique facility to allow hot tub owners and retailers to now purchase a low cost, rigid insulation cover that is tailor-made to suit any shape of spa or hot tub and delivered to their nominated address.
All orders for the bespoke cover manufacturing service will be available through Splash Spas' retail and trade websites listed at the footer of this release with 'phone support, if needed, for any customer wanting to discuss their requirements in detail.
Hot tub owners nowadays are only too aware of the energy costs associated with running a hot tub and how vital it is to have effective protection via hard hot tub covers, protecting it and retain the water's heat and keeping the tub's running costs to a minimum. Over time the original cover supplied with a new hot tub will become waterlogged and lose its thermal efficiency making it ineffective and inefficient for the job that it is employed to do. A hot tub cover will typically last 5-6 years before it reaches this state. Thereafter it will need to be replaced with a new one that should then be tailor-made to match the specific dimensions of the hot tub that it is designed to protect.
Splash Spas has developed an easy to use, tailor-made hot tub cover ordering service through its online retail and trade hot tub chemicals and accessories website(s). Customers complete an online form that comprehensively specifies the shape of the cover, its dimensions and any ancillary fittings, before the form is then dispatched to the UK manufacturing team to make the new cover. Customers can expect their replacement cover to be delivered to their home address within 6 weeks from order placement.
All Splash Spas covers feature:

5 colour choice Marine Grade Vinyl with UV inhibitors
Rigid, polystyrene, heavy density EPS 100 (20kg/m3) foam in-fill board
100mm to 63mm cover taper to guarantee rain run-off and prevent sagging
Gusseted, double-stitched skirting
1.25mm polythene wrapping surrounding the foam in-fill board
Black PVC-coated Polyester meshing on the cover's underside
Heavy duty, reinforced zips
Galvanized steel centre channel
Up to 4 heavy duty cover handles
Up to 6 strong, vinyl cover tie-down straps
Andre Knight, a director of Splash Spas, confirmed that the Splash Spas customer service team frequently had requests from both consumers and trade customers alike for a tailor-made hot tub cover manufacturing service that combined low cost and convenience, from an easy to use online ordering facility. Our replacement hot tub cover service will appeal to hot tub owners everywhere," Knight said. "It provides an uncomplicated and easy to use method of specifying your new cover and getting it made and delivered to your door at the best possible price."
Customers who visit Splash Spas online shop will see a full explanation of the replacement cover ordering process, plus its features and benefits.
Splash Spas Ltd. Is one of the largest consumer retailers of hot tub chemicals in the UK. Splash spas are based in Hampshire, and can provide 'phone support for any questions and comments 01420 520030