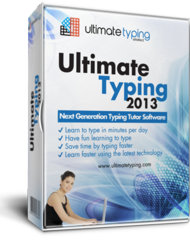 In order to learn to type quickly it's best to have as much individual help as possible.
New York City, NY (PRWEB) June 08, 2013
Developers at eReflect recently announced that their latest innovative software product, Ultimate Typing, has been developed to incorporate a unique technology called Adaptive Learning. This process allows users to hone their typing skills in an effective and personalized manner. Adaptive Technology has been identified as the point of differentiation for this typing tutor software, and one that sets it apart from other typing software systems, as this technology has not been used by any other typing software to date. The development team emphasizes that this technology will allow a typist to master skills in a manner that was previously unimaginable.
Adaptive Learning, as its name implies, is a technology that allows the training session to be personalized to the individual user's skills and knowledge. eReflect believes that each individual has a unique capacity to learn and therefore a standardized typing software program is unlikely to provide the desired results to individuals. With Adaptive Technology, the user's performance is tracked over a period of time and results are used to design activities that can allow the typist to enhance the speed and accuracy of their typing in the most effective and efficient manner. This distinctive feature was also noticed, confirmed, and praised by a recent review published by BusinesShout.com that emphasizes the comprehensive range of training courses found within Ultimate Typing. In their announcement, the development team at eReflect expressed their appreciation for this review, and hope that users will continue to provide feedback and suggestions for future upgrades and releases of the software.
In order to learn to type quickly it's best to have as much individual help as possible. As user testing and third-party reviews prove, this process has become relatively easy with the help of Adaptive Learning Technology. Typists are specifically provided those exercises that meet their individual capacity requirements, rather than simply going through canned routines. The training process is streamlined as no undue effort or time is spent in going through predefined exercises that are too easy or too hard for the user's current typing level. Adaptive Technology has allowed this customer-oriented software to be developed, and ensures that the process of learning is engaging and challenging rather than strenuous and boring.
In their recent briefing, the developers highlighted the advantages of Adaptive Learning with an emphasis on the ability of the software to speed up the learning process. Acting as a mentor and coach, this software charts the user's progress, provides an analysis of past work, and highlights the suggested course of action for future practice. The application of the correct technique can allow an individual to master the skill in an efficient and timely manner and this is exactly what the eReflect team has managed to deliver through their latest technological innovation.
For more details on Ultimate Typing™ please visit http://www.ultimatetyping.com/.
About Ultimate Typing™
Ultimate Typing™ software is designed specifically for the improvement of typing skills. Created by eReflect, a world leader in e-learning and self-development software, Ultimate Typing™ has been informed by the latest developments in the science of touch typing.
Since its creation in 2006 by Marc Slater, the company has already catered to over 112 countries all over the world, offering products with the latest cutting-edge technology, some of which are among the world's most recognized and awarded in the industry.