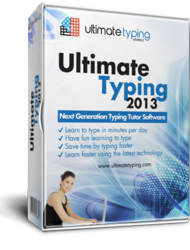 eBooks are often costly to download and the ability to access hundreds of eBooks through typing software is definitely beneficial for the users of that software.
New York City, NY (PRWEB) June 09, 2013
The best software tools are able to accomplish more than one thing at once. For example, good typing software must not merely enhance the user's ability to type, but should also be a knowledge based tool that provides information on many topics while that typing training is occurring. This requirement is met by Ultimate Typing, the typing tutor software recently introduced by globally acclaimed software designer eReflect.
In a brief statement today, company representatives from eReflect explained this distinctive feature of Ultimate Typing. One reason that Ultimate Typing particularly stands out from its competition is its range of free eBooks that come preloaded with the software. The software offers more than 500 eBooks that range from children's books to fictional novels and from management books to non-fiction books on a variety of topics. Not only do these books make entertaining and informative reading, the books are also used to enhance the typing skills of the users through various approaches, such as when material extracted from the user's selected book is incorporated into games and activities.
The eReflect development team believes that this feature is one of many that sets Ultimate Typing apart from other software available on the market. eBooks are often costly to download and the ability to access hundreds of eBooks through typing software is definitely beneficial for the users of that software. Furthermore, the software offers its users access to Wiki entries through a special Wiki integration option. The combination of eBooks and Wiki entries mean that users are able to select from a massive variety of texts that cater to their individual preference, and benefit from having that text included in their typing exercises.
In order to use the eBook feature, the user needs to use the advanced text manager, a tool that is easy to access and use. The selected book will then be used by the software as a means to develop typing games and activities. This ensures that the learning process is always fun and engaging for the user, because when one text becomes boring because it is so well known, it's easy to switch to another. When website English-Language-Skills.com reviewed the software, they also praised this distinctive feature of Ultimate Typing and emphasized that this software makes training fun and interesting.
Having all of these eBooks available during the typing training process means that the typing software is not merely focused on honing the user's typing skills, but rather is a true knowledge-based software system that allows users to gain insight into the valuable thoughts of various authors while training to become faster, more accurate typists. This means that typing faster is now made easy and interesting, but also very informative, with the help of Ultimate Typing.
For more details on Ultimate Typing™ please visit http://www.ultimatetyping.com/.
About Ultimate Typing™
Ultimate Typing™ software is designed specifically for the improvement of typing skills. Created by eReflect, a world leader in e-learning and self-development software, Ultimate Typing™ has been informed by the latest developments in the science of touch typing.
Since its creation in 2006 by Marc Slater, the company has already catered to over 112 countries all over the world, offering products with the latest cutting-edge technology, some of which are among the world's most recognized and awarded in the industry.