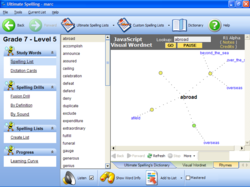 ...the launch of spelling bee competitions in Pakistan only proves that education and learning do not have to be defined by boundaries.
New York City, NY (PRWEB) June 11, 2013
There has been much tension in the Middle East, and most often than not, US ally Pakistan is in the middle of it. However, it does not mean that there is no room for efforts to help young children to learn while enjoying the learning process. That is why, with the recent launch of spelling bees in Pakistan, eReflect and the developers of Ultimate Spelling applaud the efforts of the US for helping provide this opportunity.
Spelling bees have always been a sure-fire way to engage students in friendly competition, while at the same time increasing their abilities in school. Although spelling bee competitors begin their trainings in groups, eventually they do transition to individual training in the hopes of being the one to represent their school in a wider competition. Ultimate Spelling incorporates many aspects of spelling bees in its software exercises, including multi-user capability and targeted word lists.
Sharing the tradition of spelling bee competitions with a country like Pakistan is definitely going to be beneficial for the students there. According to US Consul General Nina Fite, the spelling bee should pave the way for the children to learn to love words, learn more of them, and in effect, encourage them to keep reading. Of course, the desired effect here is for them to be able to enjoy education overall.
Given this, the creators of the spelling bee software, Ultimate Spelling, back up the spelling bee program fully for the Pakistani students. As the software developers noted recently, this program should not only help forge a stronger relationship between the two countries, but also aid the students in developing a better appreciation and comprehension of vocabulary words.
With tutorial programs like Ultimate Spelling giving a helping hand with the training of the students, spelling bees become both fun and educational. Not only is the software's design based on scientifically-proven methods, it is also made to be customizable enough to provide personalized training as much as possible. This means that the spelling training is going to be a perfect fit to the learning curve of the student.
Indeed, the launch of spelling bee competitions in Pakistan only proves that education and learning do not have to be defined by boundaries. And that is something the Ultimate Spelling company eReflect will definitely support.
For more information about how spelling software can improve spelling performance for you and your family, please visit the official website at http://www.ultimatespelling.com.
About Ultimate Spelling™
Ultimate Spelling provides a modern and easy to use spelling software that has been designed with one goal in mind – making children want to learn.
It is a fast and easy way to master even the most complicated spelling, without the need to write long lists or complete boring tests.
In fact, Ultimate Spelling provides more than just spelling help. It is a complete educational resource that boosts all level of a child's literacy.
Containing a personal computer tutor, Ultimate Spelling is the most realistic step-by-step guide to flawless spelling ability.