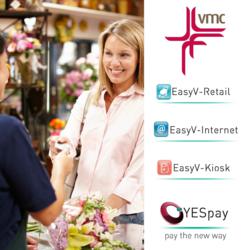 London (PRWEB UK) 5 June 2013
Integration with YESpay's innovative and cost-effective omni-channel payment services across customer present and customer not present environments has seen more than 50 customers with 200 tills availing the benefits, with the likes of British American Tobacco, Merill Lynch, Bank Of America, Willis, University Of Reading and Sodexo.
Cashing-in with Cashless
YESpay's unique cloud computing Architecture, which ensures data security, service reliability, and speedy transactions, made it VMC's top choice.
With YESpay's EasyV-Retail, EasyV-Internet and EasyV-Kiosk, VMC has refined the payment solution for many of its merchants dealing with hospitality for diverse sectors like education, banking and finance.
These products offer a wide range of benefits to merchants:

Suitable for single and multi-chain payment environments
PCI and PA-DSS compliant
High-speed transaction authorization and real-time or batch settlement
EMV Chip and PIN certified
Point-to-Point Encryption and Tokenisation supported
Dynamic Currency Conversion (DCC), Tax Free and Gift Cards supported
Low monthly service fees
24x7 help desk and support service
YESpay's EasyV-Retail enables merchants to process EMV chip & PIN and magnetic credit and debit card payments within seconds via their Electronic-Point-Of-Sale (EPOS) systems. EasyV-Kiosk securely handles the payments on self-service kiosks and EasyV-Internet is YESpay's innovation in the web payments landscape.
About YESpay International Limited
YESpay International Ltd., a global card payments service company, is now a member of the WorldPay Group and provides highly secure Internet, EMV Chip & PIN, contactless and gift card payment processing services to independent and multi-chain merchants. Through EMBOSS, the YESpay Managed Payment Service, merchants can quickly accept Integrated card payments within EPOS, kiosks, hospitality and e-commerce systems with minimal capital investment and low on-going services costs. EMBOSS is an on-line IP-based payment processing service that has been generically pre-accredited by major Card Acquirers in Europe and North America (including First Data Merchant Service (FDMS), Chase Paymentech, Barclaycard Business, HSBC, HBOS, Lloyds Cardnet, Streamline, Ulster Bank, Elavon, PBS, Amex and Diners). In addition, the YESpay EMBOSS service is fully end-to-end certified to Payment Card Industry Data Security Standards (PCI DSS) Level 1 as mandated by Visa and MasterCard. The YESpay EasyV-Suite of card payment products is innovative and cost-effective for EPOS, Kiosk, Hospitality, Mobile and Internet environments. With the YESpay EMBOSS card payment service, merchants can perform card payments in both card-present and card-not-present environments.
Contact details:
UK Headquarters: Checknet House, 153 East Barnet Road, Barnet, EN4 8QZ, UK | +44 - 203 - 006 – 3790
Canada Office: 116 Spadina Avenue, Suite 201, Toronto, Ontario, M5V 2K6, Canada | 1 855-YES-PAY- 1
PR Contact: Nitasha Jain, Marketing Manager, ext. 402, nitasha.jain(at)yes-pay(dot)com, marketing(at)yes-pay(dot)com
About VMC:
VMC provides reliable, efficient and forward thinking cashless payment systems. VMC's efficient and forward thinking cashless payment systems and smartcard integration have catered to a wide customer base extending to more than 400 sites across Europe. VMC develops, designs, manufactures, sells and supports hardware and software, to all the major vending and catering operators, as well as the end user.
Contact details:
VMC (UK) Ltd., VMC House, Northfield Road, Southam, Warwickshire,
CV47 0FG | 01926 816400 | vmc(at)vmcltd(dot)co.uk
Contact Person: Shaun Rathbone | 01926816400/ 07973693448 | shaun.rathbone(at)vmcltd(dot)co.uk