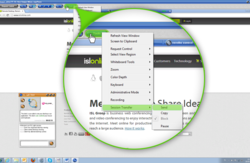 Swindon, UK (PRWEB UK) 7 June 2013
ISL Online continues to add major enhancements to their remote desktop software ISL Light. This contributes to an overall simple, efficient IT support service with quicker incident resolution time. Once a remote support session is established, a technician performing support on the client's computer can now pass an active session to a better-fitting technician in a matter of clicks, without ever affecting the support service. Besides exchanging ownership over a live session, the new functionality also lets technicians change computers during the support event. Read more about how to transfer a remote desktop support session on ISL Online Blog.
A quick guide to transferring a session:
1. Start a remote desktop session with ISL Light.
2. Open Tools in the ISL View window.
3. Select 'Session Transfer'.
4. 'Send' an email invitation to another technician.
Cloud-Based Remote Support Solution
The remote desktop application, ISL Light, is a part of a much bigger All-in-One software pack issued by a well-established remote desktop supplier ISL Online. While customers create one account and pay an annual fee (or buy a life-time license), ISL Online delivers a vast array of cloud-based remote support, remote access, live chat, and web conferencing features.
A typical case scenario starts with a client who wants to get in touch with the support personnel, calling in or simply clicking on the 'Live Chat' button embedded on a company website. The remote support service, which can be initiated directly from an online chat, enables a technician to connect with a remote client via the Internet, offering efficient technical support by working directly on the client's computer. ISL Light simply creates a one-time support event leaving nothing behind upon exiting, whilst ISL Online's remote access counterpart lets users service the previously installed computers or servers on a regular basis anytime even if unattended.
About ISL Online
ISL Online provides SaaS-based remote access, remote desktop, live chat and web conferencing solutions to connect quickly, simply and securely millions of Internet-enabled devices across the globe - Windows, Mac or Linux computers and mobile devices (iOS, Android, Windows Phone). Designed for consumers, mobile professionals and IT organisations, ISL Online's solutions empower over 150,000 business users like Konica Minolta, Canon, Mitsubishi Electric, Batelco and Coca Cola to create more than 6 million sessions yearly. Founded in 2001, ISL Online is one of the pioneers of the remote desktop industry.