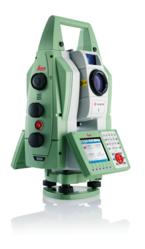 The Leica Nova MS50 MultiStation puts powerful laser scanning capabilities in the hands of users who have never before worked with rich point clouds or 3D datasets.
Norcross, GA (PRWEB) June 05, 2013
Leica Geosystems announces the revolutionary Leica Nova MS50 MultiStation, the world's first instrument that combines the most advanced total station technology with 3D laser scanning, imaging and GNSS positioning in one easy-to-use solution for a barrier-free entry into laser scanning. The Leica Nova MS50 MultiStation puts powerful laser scanning capabilities in the hands of land surveyors, plant surveyors, construction managers, BIM professionals, public safety professionals and a broad range of other users who have never before worked with rich point clouds or 3D datasets.
Developed by the technology leader in innovative 3D scanning and robotic total stations as the flagship product in the new Leica Nova solution, the Leica Nova MS50 MultiStation provides users with a complete, streamlined workflow that allows users to capture, create, manage and use 3D object-based spatial data directly in the field as part of a survey workflow for better decision making. It integrates advanced measurement technology, modern and intuitive field software, intelligent office software and Leica Geosystems' first class service to give users an easy and affordable way to add laser scanning capabilities across an unprecedented range of applications.
The entryway to laser scanning—through a familiar total station interface:
Powered by onboard Leica SmartWorx Viva software, the MultiStation defines a new product category that combines the highest-precision total station technology with laser scanning to provide streamlined workflows, seamless data transfers and extreme versatility.
Through a familiar survey workflow, users can accurately capture 3D objects and create a point cloud directly in the field to identify key parameters such as volumes, minimum and maximum distances and spatial orientation in near real-time for faster and more effective decision-making. No registration of scan data is needed; the new mergeTEC technology enables the Leica Nova MS50 MultiStation to automatically synchronize images with scans and tie scans into total station measurements for seamless 3D point cloud integration. Users simply download and go – no processing is required.
The ability to switch between total station measurement, laser scanning and GNSS positioning as needed provides maximum flexibility. Users can collect and visualize topographic survey data with detailed, high-precision scans. They can save time by checking data for integrity and relevance right in the field, thereby avoiding costly rework or returns. This allows users to benefit from better decisions with access to more detailed data when and where they need it.
For even more versatility, the Leica Nova MS50 MultiStation can be combined with a broad range of software packages for the easy creation of customized 3D deliverables. It not only works with Leica Geosystems' own software such as Leica Infinity, Leica MultiWorx for AutoCAD and Leica GeoMoS; but also with software developed by our partner brands MicroSurvey and Listech, and many other third party developers.
The Leica Nova MS50 MultiStation gives surveyors and other professionals who work with spatial data all the tools they need to capture and manage rich 3D datasets in a single, easy-to-use solution that eliminates the barriers of cost and learning curve.
Availability:
The Leica Nova MS50 MultiStation and software are immediately available. Detailed information can be obtained from all Leica Geosystems sales representatives and authorized distribution partners.
For more information about the Leica Nova MS50 MultiStation and other innovative Leica Nova solutions, please visit:
http://www.leica-geosystems.com/nova
Leica Geosystems – when it has to be right:
With close to 200 years of experience pioneering solutions to measure the world, Leica Geosystems products and services are trusted by professionals worldwide to help them capture, analyze, and present spatial information. Leica Geosystems is best known for its broad array of products that capture accurately, model quickly, analyze easily, and visualize and present spatial information.
Those who use Leica Geosystems products every day trust them for their dependability, the value they deliver, and the superior customer support. Based in Heerbrugg, Switzerland, Leica Geosystems is a global company with tens of thousands of customers supported by more than 3,500 employees in 28 countries and hundreds of partners located in more than 120 countries around the world. Leica Geosystems is part of Hexagon, Sweden.