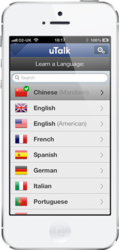 London (PRWEB UK) 7 June 2013
The app is published by language learning company EuroTalk and is a new version of uTalk for iPhone and iPod touch. It will be added to monthly until it holds more than 130 languages.
"When you're new to a country there can be that awkward moment when you want to communicate but all you can do is smile... and smile again," says EuroTalk's chairman Richard Howeson.
"This app is a gift for anyone who's been in that situation and doesn't want to be in it again!"
uTalk includes audio by male and female native speakers and a recording feature to perfect pronunciation. It also offers four addictive games to help commit the new words to memory so that they are at the ready when they are needed.
The key words will be yes, no, thank you, hello, please, gents' toilet, ladies' toilet, goodbye, help!, one, two, three, how much does this cost?, I don't understand and water.
For people who want more vocab there is also uTalk Essentials with 360 words (£6.99) and uTalk Premium with 1,200 words (£10.99).
Special features in the new uTalk, which was developed in response to customer feedback, include a culture section detailing local currency and words associated with that country.
There is also a "World Tour" travel game that allows users to go on an imaginary round-the-world journey complete with map, simulated flights, souvenirs and stamps.
uTalk is available to download for free from the App Store at http://appstore.com/eurotalk/utalk
Media contact:
Liz Dyer
0207 371 7711
or
Richard Howeson (out of hours)
07973 223554