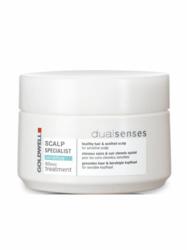 (PRWEB UK) 6 June 2013
Hairtrade, the UK's leading retailer of human hair extensions, clip in hair extensions, hair care and beauty products has introduced a new Goldwell range ideal for those with sensitive scalps.
Established in 1948, professionally exclusive Goldwell is one of the hair industry's top brands, specialising in colour care to give a salon finish at home.
The Goldwell range consists, of shampoos and conditioners specific to hair colour shades, as well as treatments and styling products.
The new Goldwell Dualsenses Scalp range consists of a collection of hair products to help those with sensitive scalps including an anti-dandruff shampoo, a scalp regulation shampoo, a deep cleansing shampoo, a scalp treatment, soothing lotion and a specialist anti hair loss spray.
All products are free from colourants and fragrances so they are safe for the most sensitive of scalps.
The Goldwell Dualsenses Scalp Specialist Deep Cleansing Shampoo gently provides effective deep-cleansing of build up from styling products, oil and chlorine and improves moisture balance while the Scalp Regulation Sensitive Shampoo provides mild and gentle cleansing for a noticeably soothed scalp. For those suffering from dandruff, the Goldwell DualSenses Scalp Specialist Anti-Dandruff Shampoo regulates the scalp and prevents new dandruff.
The new range also consists of the popular Goldwell 60sec treatment, and the Scalp Specialist Sensitive treatment is especially mild consisting of lime-tree blossom extract which is a soothing and anti-inflammatory ingredient.
For itching and irritation on the scalp, the Scalp Regulation Sensitive Soothing Lotion instantly relieves the scalp and reduces itching. And finally, the Specialist Anti Hair loss Spray cares for thinning hair with t-Flavanone and Ginseng extract which prevents hereditary hair loss and supports natural hair growth while strengthening the hair.
Keven Kou, Managing Director at Hairtrade commented, "We have been looking to extend our hair care range since sales increased last year. We found that customers are looking for specialised products, and in particularly for those with sensitive scalps which is a common issue."
He continued, "The Goldwell Scalp range is ideal for those with sensitive and easily irritated scalps as it has no colouring or fragrance. They consist of ingredients that help with itching and inflammation to sooth the scalp and release feelings of tension through much needed moisture."
The Goldwell Dualsenses Scalp range is available from Hairtrade now.
About Hairtrade:
Established in 2005, Hairtrade (owned by I&K International Limited) is now one of the leading distributors of online hair care and beauty products across the UK and Europe. Hairtrade provides a wide range of hair extensions, hair care products and hair electrical brands.
Hairtrade provide a wide range of 100% human hair extensions mainly, human hair weaves, I&K clip in Hair Extensions and pre-bonded hair and European hair extensions. Among its top brands are I&K 100% Human Hair and Remy Hair, Top Model and Jessica Simpson hair. In addition to its 100% human hair extensions the company also provides synthetic hair extensions, wigs, hairpieces, hair extensions accessories and tools, as well as an extensive range of hair care products from brands such as Tigi, Loreal, Schwarzkopf, Goldwell, Matrix, Fudge, Keune, Sexy Hair and many more.