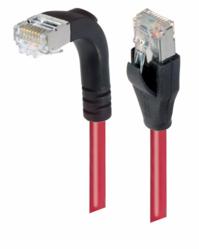 "Our right angle technology has resulted in cleaner, neater server racks, easier drop-point connections, and networks that operate faster due to cables maintaining the required category rating." - David Gallagher, Product Manager
North Andover, MA (PRWEB) June 07, 2013
L-com, Inc., a designer and manufacturer of wired and wireless connectivity products, has continued releasing new right angle Ethernet cable assembly lines with its new shielded right angle Cat 5e cable assemblies with low-smoke, zero halogen (LSZH) jackets. The new cables are expected to provide additional electro-magnetic interference (EMI) and radio frequency interference (RFI) protection while allowing the use of right angle networking cables in locations where fire and combustion are a risk, such as ships, airplanes, and military bases and vehicles.
L-com just released its unshielded LSZH right angle Cat 5e cables weeks ago. The cables use a patent-pending technology to enable a tight right angle at the connection point without risking untwisting the twisted pairs that allow the cable to pass Category testing. Since L-com introduced the technology in 2010, it has won multiple awards and L-com has greatly expanded the offering to include hundreds of different lengths, connector orientations, and jacket colors. These new products are cables with LSZH jacket materials over an aluminum/polyester shield terminated at the connectors for maximum EMI/RFI resistance.
"Our right angle technology has resulted in cleaner, neater server racks, easier drop-point connections, and networks that operate faster due to cables maintaining the required category rating," said David Gallagher, Product Manager. "We can now offer a huge variety of choices to engineers and technicians who work in environments with stringent flame/smoke regulations."
In addition to the right angle feature, these cables use 24 AWG stranded conductors for flexibility, and are available in fifteen standard lengths ranging from 1 foot to 100 feet, and three standard colors. Detailed engineering drawings and 3D CAD models are available on L-com's website.
For more information about this release, please contact:
Dave Fallon, Internet Marketing Strategist
978-682-6936 x1169, dfallon(at)l-com(dot)com
L-com®, a global designer and manufacturer of wired and wireless connectivity products, offers a wide range of solutions and unmatched customer service for the audio/video, OEM, military/aerospace, IT, and wireless RF industries. The company's product portfolio includes cable assemblies, connectors, adapters, computer networking components, and custom products, as well as the HyperLink® line of wireless antennas, amplifiers, filters/splitters, lightning protectors, weatherproof enclosures, and much more. Trusted for more than 30 years, L-com, Inc. is headquartered in North Andover, Massachusetts, USA, and is ISO 9001: 2008-certified. For more information, please visit: http://www.L-com.com/.
###