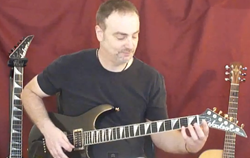 So it seems that presently, whenever someone wants to learn something like guitar exercises, guitar licks, or almost anything else to do with the six-string, it can be done with unprecedented ease.
New York, New York (PRWEB) June 06, 2013
The team at Guitar Control keeps the gratuitous guitar lessons coming with this current clip that features one of their newest teachers, the capable Rob Compagna. This is part two of a video tutorial that entails a guitar exercise routine which can be quite effective for improving all sorts of skills on the six-string.
For those people that haven't heard of Guitar Control yet, they are a rather new and notable U.S. based company that specializes in teaching music virtually via their team of talented instructors. All of these accomplished and proficient guitar players each excel in a particular style of music and they also reside in different places around the planet.
In this guitar lesson, Mr. Compagna teaches some basics that may be invaluable to many guitarists, especially beginners as it contains guitar scale exercises. He begins with the pentatonic scale and proceeds to show five different shapes across the fretboard, while eventually getting into a few moves that involve 3 and 4 note melodic patterns from within those same scales.
The clip lasts for just over 7 minutes and it can be found on You Tube along with all of Guitar Control's other videos, which currently total over 300. One of the ideal aspects of guitar lessons like this is that they can of course be viewed unlimitedly, which is often considered essential when it comes to learning. Also, handy guitar tabs are provided which show where the fingers go for each note and chord formation.
So it seems that presently, whenever someone wants to learn something like guitar exercises, guitar licks, or almost anything else to do with the six-string, it can be done with unprecedented ease. This would certainly be thanks to the internet and companies such as Guitar Control who has actually stated that they "won't stop until the whole world can play the guitar!"