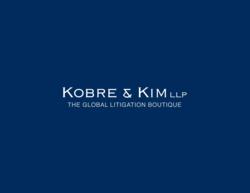 "A special projects firm on the cutting-edge of business intelligence with experienced litigators and former government prosecutors in key locations in the U.S., U.K., and Hong Kong."
Washington, DC (PRWEB) June 05, 2013
Kobre & Kim LLP was recognized as the "Trial Firm of the Year" by Main Justice in its 2013 Best FCPA Lawyers Client Service Awards. The award honors Kobre & Kim LLP's exceptional representation of companies and executives in FCPA and global anti-corruption matters. The firm received particular mention as "a special projects firm on the cutting-edge of business intelligence with experienced litigators and former government prosecutors in key locations in the U.S., U.K., and Hong Kong."
The award was presented on April 23, 2013 at the Hotel Monaco in Washington DC and was received by Kobre & Kim LLP partners Eric B. Bruce and Matthew I. Menchel, who were individually recognized for their remarkable trial skills that "give their clients leverage even in the context of settlement discussions." According to Main Justice, the partners' "trial experience also provides the firm with litigation skills and insights only gained through ongoing courtroom exposure."
Main Justice is a Washington DC based publication focusing on the politics, policies, and personalities of the U.S. Department of Justice and corporate law enforcement, providing news and insight catered to legal professionals in major law firms and corporations.
About Kobre & Kim LLP
Kobre & Kim LLP is the go-to boutique for international litigation and arbitration. Our practice is 100% devoted to litigation and arbitration. We provide a team of conflict-free, multijurisdictional attorneys who are able to advocate in situations involving overlapping institutional interests with cross-border issues. We are the only litigation boutique that offers the skill and experience of former U.S. prosecutors as well as English barristers and solicitors based internationally throughout the U.S., Europe, Asia and the Caribbean. We are aggressive, trial-ready and focus on the heart of a dispute.