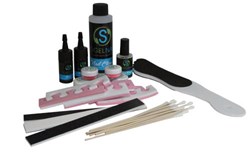 For many women, because of their jobs, they have to keep the nail art on their fingers very conservative, but their toes are a whole different story
Enterprise, Utah (PRWEB) June 18, 2013
As we approach summer, women are not just getting ready to show off their bodies, they are also getting ready to show of their toes. Women everywhere are finding that having colorful toes is a great way to show off their fun side.
To help with this process, SO Gel Nails, an international provider of gel nail products, has just introduced their Glitter Toe Kit. This kit is used by nail professionals to give their clients beautiful, fun, vibrant toes every time. According to CEO Dave Hall, the great thing about toes is they are one area of a women's body she can have some fun with. "For many women, because of their jobs, they have to keep the nail art on their fingers very conservative, but their toes are a whole different story. Toes can be covered at work, which allows women to be more fun and creative in their designs," says Hall.
From a neon orange, to a glittery purple, the options for toe art are endless. "The great thing about glitter toes is you can basically design them how you want and then if you decide you want a change, you go in and have them redone with a different color," says Hall. "Our gel toes will last right around a month, which means that women can have three or four different looks during the summer."
To learn more about the SO Gel Nails Glitter Toe's kit, visit http://www.sogelnails.com.