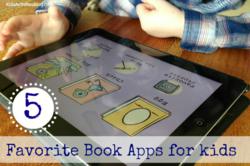 Book apps make a great reading tool for reluctant readers.
Dallas, TX (PRWEB) June 21, 2013
Book apps can really bring a book to life. Seasoned Moms are sharing their favorite book apps for kids and best apps for kids on Kids Activities Blog this summer.
The book apps are interactive and make reading fun. The best ones even offer lots of extra opportunities for extended learning. The best app list includes The Monster At The End Of This Book from Sesame Street. The classic tale is brought to live with this funny interactive app. The reader is in control of the action and the playful antics on each page move the story along.
Other apps include Don't Let The Pigeon Run This App from Disney and The Heart And The Bottle from Penguin Group USA. Both books provide lots of learning opportunities while having a blast. They are funny, highly interactive, and stimulate kids' minds.
The list of best educational apps for kids includes The Preschooler Reading App, All Aboard The Dinosaur Train, The Super Why App by PBS kids, and the Dr. Seuss Bookshelf App. These apps provide hours of fun play while sneaking in lots of learning opportunities.
For detailed instructions and to get additional fun apps for kids, check out Kids Activities Blog this week. Come get inspired to let the kids have fun with apps that sneak in a bit of learning.
About Kids Activities Blog
Kids Activities Blog is a website created by two moms (who collectively have nine children), Rachel Miller and Holly Homer from June Cleaver Nirvana. It is their daily goal to inspire parents and teachers to play with kids. This interactive website publishes simple things to do with kids twice a day. Kids Activities Blog is a great tool for moms and teachers to find kid-friendly activities that create memories and sneak learning into the fun.