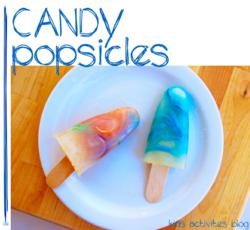 Candy popsicles fun to make and will turn into the kids favorite treat during hot summer afternoons.
Dallas, TX (PRWEB) June 28, 2013
Everyone loves ice pops during hot summer days. The ultimate popsicle ice pops recipe has been released on Kids Activities Blog. Seasoned Moms are sharing their favorite summer activities for kids including fun summer recipes.
The popsicles are fun and easy to make. They hide a surprise inside. Let the kids pick a handful of fun candy at the local candy store or the candy aisle in the grocery store. Items such as gummy worms or candied orange slices will look great inside the popsicles. Simply drop a couple of candy pieces inside popsicle holders, fill up with lemonade, and put inside the freezer.
The colorful homemade popsicles will delight the whole family. Making fresh limeade is another fun kid recipe. Host a lemonade stand sale for the whole neighborhood.
Another fun thing to do this summer is watching ants change color when they digest a certain type of food.
Fill in a kiddie pool with a variety of items to create a huge sensory tub. Make a fire, create and roast fun campfire food including yummy smore cones.
For detailed instructions and to get additional fun summer time activities, check out Kids Activities Blog this week. Come get inspired to let the kids have a blast with any of the 50+ summer time activities from seasoned Moms.
About Kids Activities Blog
Kids Activities Blog is a website created by two moms (who collectively have 9 children), Rachel Miller and Holly Homer from June Cleaver Nirvana. It is their daily goal to inspire parents and teachers to play with kids. This interactive website publishes simple things to do with kids twice a day. Kids Activities Blog is a great tool for moms and teachers to find kid-friendly activities that create memories and sneak learning into the fun.