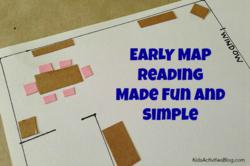 Teach kids life essential map skills during this summer's road trips.
Dallas, TX (PRWEB) June 29, 2013
Fun map games perfect to teach map skills have been released on Kids Activities Blog. Teach map skills before embarking on the family trip this summer. Map skills games can teach life long skills while having lots of fun.
Kids love treasure hunts where "X" marks the spot. Simply begin by drawing a sketch of the layout of the house. Let the kids help with cutting out shapes that represent furniture or other items found inside each room. Glue the shapes on the map. Hide a few objects in each room such as LEGO mini figures and mark the hiding spots on the map.
Pass the map on to the child and explain to him or her how to find the first treasure. Be amazed at how fast the little ones will be able to understand how to find the other hiding treasures. Once the kids are comfortable with the map, let them hide objects for the parent to find.
Another step is making a map of the neighborhood. Mark familiar landmarks on the map and ready is the fun summer outdoor adventure for the whole family.
Hiding snacks around the house in plastic cups can make a fun interactive snack time for kids. One Mom's smart treasure hunt idea made the kids eat healthy snacks and taught them map skills as well. Simply make a map of the kitchen and living room. Mark spots on the map where the healthy snack cups are hidden. The kids will love to hunt their snack treasures, eat them, and play the hiding game over and over again.
For detailed map game instructions and to get additional fun map activities, check out Kids Activities Blog this week. Come get inspired to teach the kids important map skills this summer.
About Kids Activities Blog
Kids Activities Blog is a website created by two moms (who collectively have 9 children), Rachel Miller and Holly Homer from June Cleaver Nirvana. It is their daily goal to inspire parents and teachers to play with kids. This interactive website publishes simple things to do with kids twice a day. Kids Activities Blog is a great tool for moms and teachers to find kid-friendly activities that create memories and sneak learning into the fun.