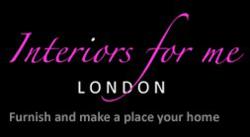 Since we carry such a wide range of home furnishings and accessories by many of the UK's top brands, we understand that making the right buying choices when it comes to both necessities and luxuries can be extremely tricky
(PRWEB UK) 6 June 2013
From necessities such as beds, tables, TVs and fridges to interior decoration must-have's like lamps, bedding and chairs, the numerous choices available can be overwhelming. The right decision will not only be based on specifications and budget, but also on each individual having an understanding of where their particular tastes lie.
Popular online retailer Interiorsforme.com understands this dilemma, which is why their website allows customers to conveniently shop by room and by brand. To make life even easier, they have outlined some need-to-know tips that will help people hone their unique style:
Inventory Check
The first thing that Interiorsforme.com advises is for people to take stock of the furniture, linen and electronics they already own, making note of the items that they consider an eye-sore or those that have seen better days. Not only is this a good way to plan a budget (the worst items can be prioritised first for replacement), but it also gives an indication of what kind of furnishings to steer clear of. For example, if a vintage brown leather sofa that a person inherited makes them want to cringe, this suggests they might lean towards different styles, perhaps with a cleaner, more contemporary edge. Conversely, by taking note of the items that do impress, it gives people a clearer idea of the styles and colours that best tickle their fancy.
Functionality
People differ widely in their individual tastes, but it's important to understand that each home should reflect and suit the people that live there. Single people for example would be in a position of limitless choice in their furnishings such as state of the art gadgets, delicate knickknacks and white carpeting if they so desire, whereas families have more functional constraints and would need to look at furnishings that won't be destroyed by the kids in a day plus savvy space savers like storage beds.
Mood Inspiration
An equally important consideration is setting the right theme or mood for a home. Interiorsforme.com suggests that people give thought to what inspires them most. The spectrum ranges from light, airy modern styles which could be mix a bit of the bold with the elegant, or the more classic old-world furnishings in rich colours and textures, such as embroidered chaise longues, dark mahogany tables and ornate ceiling lights. An additional tip is to think about travel destinations that inspire – a home could be decorated in contemporary style but have unique touches of styles from Asia or Africa for example.
Director of Interiorsforme.com, Sunita Shome, concluded: "Since we carry such a wide range of home furnishings and accessories by many of the UK's top brands, we understand that making the right buying choices when it comes to both necessities and luxuries can be extremely tricky. While our website consistently strives to simplify this for customers by letting them shop for each room of their house or flat, we hope that the tips we've outlined will make the right decisions even easier by helping people understand and target their personal preferences."