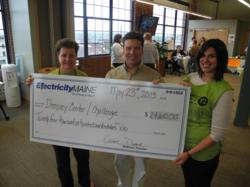 Lewiston, Maine (PRWEB) June 06, 2013
Electricity Maine co-owner Emile Clavet recently presented a check for $24,610 to Wendy Tardiff, Executive Director of the Dempsey Center and Aimee Arsenault of the Dempsey Challenge.
The contribution was part of Electricity Maine's 2012 Dempsey Challenge sponsorship as well as a contribution through Electricity Maine's Power to Help fund. 922 Electricity Maine customers selected the Dempsey Center as a Power to Help partner they would like Electricity Maine to support.
As part of the Provider Power family Electricity Maine and ENH Power's mission is to strengthen communities by providing competitive electricity rates on the supply portion of their utility bills while partnering with, and providing resources to non-profit organizations that create positive change. For more information about the Power to Help fund visit http://www.electricityme.com/power-to-help