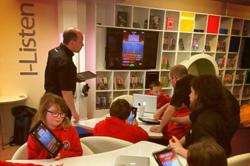 Cardiff, United Kingdom (PRWEB UK) 7 June 2013
Technology specialists Box UK have announced that they will be partnering with Casllwchwr Primary School and the LIFE (Lifelong Intergenerational Furthering Education) Programme, run by Swansea City Council, which seeks to provide pupils with knowledge and experience of key ICT skills at an early age.
To celebrate the launch of the programme Box UK participated in an event held at the school, attended by Welsh Minister for Education and Skills Leighton Andrews, where members of the development team ran a Masterclass for Education session focused on introducing pupils to real-world software projects and basic coding languages.
The Life Programme has been developed as a reaction to on-going pressures to improve standards in education as well as the growing importance of ICT in the workplace. Over the last 20 years, the proportion of people using ICT in their job has nearly doubled (an estimated 77% of people now use technology at work) and many employers report that having employees with a functional level of ICT skills is fundamental to the future growth of their business.
Building on the success of Casllwchwr School in responding to this trend, the programme sees partners from government, industry and education working together to find a solution to the demand for digital skills by integrating technology into teaching and learning processes and providing pupils with a broad foundational knowledge of ICT.
Speaking about the launch Box UK's Head of Operations Stuart Arthur said: "We're delighted that Box UK is now involved in the Life Programme, and are incredibly excited to be providing young learners with development experience through the expansion of our Masterclass for Education series. Assisting the education sector in this way is crucial to nurturing the next generation of digital talent and supporting continued economic growth, and we look forward to developing the programme further through partnership with Casllwchwr Primary School."
Box UK's involvement in the Life Programme continues the software development consultancy's formal commitment to supporting ICT education and skills development. In January it was announced that Stuart Arthur had been selected to jointly chair a steering group on behalf of the Welsh Government and the company has recently participated in a project fair held at Swansea University, joining companies including IBM in presenting to 60 secondary school pupils about the opportunities available in ICT and Computer Science disciplines.
More detail about the aims and objectives of Life Programme can be found on their website, and for further information about how your school, college or university could benefit from Box UK's development expertise please visit our Masterclass for Education page. You can also stay up-to-date with the latest news and releases by signing up to our company newsletter.
About Box UK
Box UK is a team of thought leaders, consultants and application developers engaged in the rapid and precise design and delivery of high-performance software products and services for progressive enterprises worldwide.
Established in 1998, Box UK's client list includes BBC, LAN Airlines, Investec Asset Management, the National Gallery, Chartered Institute for IT, EDF Energy and Severn Trent Plc.