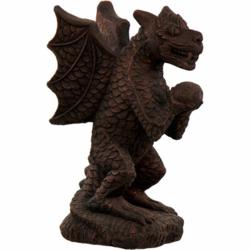 Colebrook, NH (PRWEB) June 05, 2013
Kheops International, a leading distributor of wholesale metaphysical, New Age and Wiccan supplies, is pleased to announce its June "Garden Buddy" sale. The month long sale features select volcanic stone statues and eco-friendly bamboo wind chimes. Visit Kheops at http://www.kheopsinternational.com for a full listing.
Just in time for summer, Kheops Internationals is offering excellent savings on volcanic stone statues and eco-friendly bamboo wind chimes. Stone statues and bamboo wind chimes make wonderful metaphysical gifts. They add a touch of interest and personality to any space and can be used indoors or out.
Volcanic stone gargoyle statues are perfect for the magically inclined or for those who prefer an old world style. Gargoyles are the mythical creatures that come to life at night. According to many legends, gargoyles take flight at night to guard their home or dwelling until dawn.
Cat statues appeal to broad range of people and are the best buddy of many Wiccans. Metaphysically, cat spirit brings intuition and access to the supernatural. They are powerful, all seeing protectors and guardians of the home.
Bamboo wind chimes give a voice to the wind and send aspirations and prayers to the heavens. Their earthy tones are relaxing and intriguing, resonating deeply into the heart and soul. Bamboo wind chimes add natural beauty to their surroundings, and like the stone statue, can be used indoors or outdoors.
The reverberation produced by a wind chime can calm the body and reduce stress, anger and tension. Wind chimes can have a profound effect on the body, mind and spirit by fostering inner peace and healing. They enhance positive Chi and bring harmony, balance and well being.
Many New Age stores carry wind chimes that incorporate symbolism into the design. These added symbols are said to infuse the wind chime with the attributes and energies of the symbol, making them more powerful.
June is the perfect month to add extra variety to a store's inventory and Kheops International makes it easy and affordable with their "Garden Buddy" sale. Wholesale metaphysical gift buyers will find super-savings all month long on select eco-friendly bamboo wind chimes and volcanic stone statues. Save even more with a "Bundle Promotion."
About KheopsInternational.com
Kheops International prides itself on being one of the best wholesale suppliers of quality metaphysical products. They search the globe to bring meaningful, gifts to your store. Kheops makes it a priority to steadily increase its supply of products that have been manufactured using environmentally sound methods. Kheops purchasing agents work diligently with suppliers to improve product quality, maintain competitive pricing and to ensure that the manufacturing processes are safe. These humanitarian efforts help to ensure a positive energy in all of their meaningful gifts.