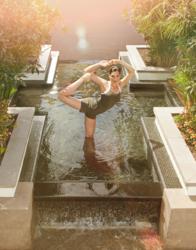 Awaken your spirit; Connect Mind, Body and Soul.
Palm Beach, FL (PRWEB) June 06, 2013
This November 22nd - 24th, Eau Spa at The Ritz-Carlton, Palm Beach puts the 'play" back in playground and introduces a Hot Yoga and Power Yoga weekend for an invigorating body and soul retreat. Eau Spa at The Ritz-Carlton, Palm Beach invites acclaimed Yogis Bryan Kest and Jimmy Barkan to inspire guests with land and water; yoga and fitness; and overall well-being, while equipping participants with the essentials to embrace personal wellness and serenity for this body, mind and soul sojourn.
The yEAUga Weekend kicks off Friday evening with a Jimmy Barkan Master Class and his renowned Two- hour Hot Yoga from 6:00pm-8:00pm.
Guests will greet Saturday with a sunny breakfast in Temple Orange and work out with Bryan Kest and his three-Hour Master Class Power Yoga 10:00am-1:00pm. Following class, re-invigorated guests can languish in the sun or enjoy solace in the Self-Centered Garden.
Participants rise and shine on Sunday, November 24th with a final three-hour Master Power Yoga class from 10:00am-1:00pm and then travel home feeling inspired and refreshed.
The self-indulgent spirit of the oceanfront resort encourages guests to spoil themselves with this yoga-centric ritual. The enlightening journey flows throughout the day with access to all of Eau Spa's indoor and outdoor lounge areas, including the Self-Centered Garden, with its waterfall bench, a warm embrace of falling water to ease back and neck muscles. Guests can also relax on heated loungers inside the spa's playful Bath Lounges or Eau-zone.
The Jimmy Barkan/Bryan Kest yEAUga Weekend package includes:

Overnight accommodations in a resort view Guest room, with large private balcony
Daily breakfast buffet at the resort's signature Temple Orange restaurant, with
oceanview terrace

Complimentary valet
Jimmy Barkan Hot Yoga class and (2) Bryan Kest Power Yoga sessions
All day access to Eau Spa each day of your stay to linger in the Self-Centered
Garden with access to Bath Lounge for Steam and Sauna

Personal training with Danielle Jolie are available for $100.00, please schedule in
advance

10% off all fully priced spa and salon treatments at Eau Spa
10% off all other fitness classes or private trainer sessions
10% off Eau Spa retail
This exclusive weekend package is available November 22 – 24th, 2013. Rates starting at $409 per person per room, $105 second guest in the room. Guests can also purchase the individual Jimmy Barkan Hot Yoga class and Bryan Kest Power Yoga classes and have access to Eau Spa Self-Centered Garden and Bath Lounge; discounts apply for early booking. Namaste!
For more information, pricing and to book, please call 561-540-4811. For more information on Eau Spa, please visit http://www.eauspa.com or cwarren(at)eauspa(dot)com or call 561-540-4960.
About The Ritz-Carlton, Palm Beach
The Ritz-Carlton, Palm Beach is a 2013 Forbes Five Star and AAA Five Diamond Award property, which completed a more-than $130 million transformation in 2009. The beachfront resort welcomes guests with breathtaking ocean views immediately upon entry and a gorgeous outdoor terrace with evening ambiance and a fire pit. There are 310 spacious guestrooms and luxurious suites – including the 2,755-square-foot Presidential Suite – and 23,000 square feet of indoor meeting space. Dining options include Angle, a contemporary American supper club; Temple Orange for traditional American/ Mediterranean comfort food; Breeze as a chic burger bistro set ocean side; Oceanfront Cabanas for intimate affairs; Eau Spa Café; and Stir Bar in the lobby lounge for light nibbles and refreshments. The Business Lounge and Resort Cabanas cater to travellers who wish to combine work and play. Eau Spa offers a contemporary take on spa-going and day-long unwinding with a multitude of fanciful treatments, a full-service salon and Eau- fitness Center. For more information visit http://www.ritzcarlton.com/resorts/palm_beach.
About Eau Spa
Eau Spa is a 42,000 sq. ft. spa wonderland located at the 2013 Forbes Five-Star, AAA Five diamond property Ritz-Carlton, Palm Beach. Renowned for elevating the spa experience to an entirely new level, every touch has been carefully thought out to help the guests engage --perfect fusion of luxury, design, playfulness, indulgence, and overall fun for which Eau Spa is known. Of 19 treatment rooms, 12 are Garden Villas featuring private and peaceful outdoors. Master skincare specialists present their personalization, immediate results and high touch luxury treatments. Leading skin care authority, Dr. Zein Obagi's newest product line, ZO Skin Health™, provides individualized skin care products that focus on prevention and maintenance. The specialized Kerastase salon at Eau Spa features six chairs, including a master chair for special occasions and weddings. Discover the baroque and beautiful Eau Spa and Salon where primping and personal attention are always in style. Eau Spa was recently earned tSpa Finders Readers Choice 2012 Category Awards for Best Beach Spa, Best for Girlfriend Getaway & Bachelorettes, Best for Interior Design, and Best for Weddings. Previous SpaFinder awards include: Best Interior Design, Best in Luxury, Best for Accommodation, & Favorite Spa Professional. To learn more about Eau Spa, please visit http://www.eauspa.com.
About Bryan Kest:
Bryan has been involved with yoga practice since he was 15 years old starting in Hawaii in 1978 with David Williams, the first person to bring Ashtanga Vinyasa Yoga to the USA. Through the three decades of study, practice and with over 12,000 classes, Bryan has brings a mastery and understanding to his classes.
About Jimmy Barkan:
Jimmy Barkan is a master yoga teacher certified by Ghosh's College of India in Calcutta in 1981 and is considered one of the pioneers of yoga in the United States; practicing long before yoga became mainstream. Jimmy's career began under the guidance of Bikram Choudhury. Jimmy's first yoga studio opened in Fort Lauderdale, Florida in 1983 and success has followed him to national and international locations with the establishment of The Barkan Method of Hot Yoga in Canada, Japan, Australia, New Zealand, Iceland, Denmark, Norway, Sweden, France, Germany, Austria, South America, Thailand, South Africa, United Kingdom and United States. Jimmy's Level I Teacher Training programs continue to be sought out by students from all over the world. Barkan also offers Level, II, and III Teacher Training programs throughout the year in Florida and Costa Rica. Jimmy has trained many top professional athletes including members of the NFL, NBA, NHL, the 1997 World Series Champions Florida Marlins and PGA Tour players. With a Bachelor's Degree in Fine Arts from NYU, Barkan uses his education as a foundation for helping his teachers find their own voice and personal expression.