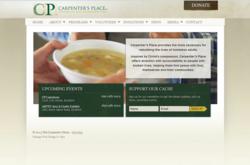 We are proud to have a great website that will allow us to serve our community even better.
(PRWEB) June 07, 2013
The Carpenter's Place has launched their new intuitive website that was designed by the creative team at Idea Marketing Group.
The Carpenter's Place is a not-for-profit organization that serves homeless individuals in their quest to rebuild their lives and get on the right path. The organization was established in 2000 by Al and Cathy Barsema who knew first-hand how trying times like those could be. Al Barsema had previously struggled with addiction and through an eight year journey he regained his footing for a good life and established the Carpenter's Place to help others who are going through similar situations. CP has vastly expanded over the years and the Barsema family is sure that the best is yet to come.
The Carpenter's Place was interested in a new website to expand their reach and serve as a resource to those involved with the organization. The new website revamped their look to match the quality of the service provided by CP. The website contains a variety of features such as the events tab on the homepage that make it a great marketing tool and resource for visitors. This section of the homepage is dedicated to announcing all of the upcoming events for Carpenter's Place so visitors are always informed of what is going on in the CP community in addition to the blog. The events section is easily updated through the backend because the website was built on a Wordpress platform. Wordpress makes updating and making any changes easy, even for those who aren't technologically inclined. The website also has a donation feature, which makes it quick and simple for anyone to donate any given amount to CP. The homepage also has a sign up box to directly register for the Carpenter's Place newsletter given just a name and email. This allows the organization to keep in touch with more people, more often. There is also a media section where visitors can view an interactive photo gallery and a check out informative videos that the Carpenter's Place has posted.
Kay Larrick, Executive Director of the Carpenter's Place says "this website is going to take our organization to the next level. We will be able to reach and ultimately help more people, keeping us true to our mission. We are excited to see the growth that occurs from the launch of our new website."
To check out the new website or learn more about the organization check out http://www.carpentersplace.org.