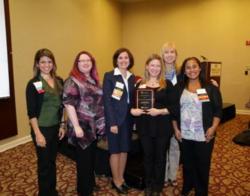 Columbus, OH (PRWEB) June 07, 2013
Applications are now being accepted for the Ohio Psychological Association's (OPA) Psychologically Healthy Workplace Awards. This program recognizes organizations that make a commitment to programs and policies that enhance the quality of the work environment for its employees.
A psychologically healthy workplace increases workers' job satisfaction and loyalty to their employer. If your organization has programs or policies to address one or more of the following issues, it is eligible to apply:
•Employee Involvement
•Work-Life Balance
•Employee Growth and Development
•Employee Recognition
•Health and Safety
For profit and not-for-profit organizations of all sizes are encouraged to apply. Winners will be recognized at a special luncheon during the Ohio Psychological Association's Convention on October 30, 2013 at the Quest Conference Center in Columbus. Statewide winners are then eligible to receive a national award from the American Psychological Association. Ohio has had several previous national winners, last year the Cleveland Clinic Mellen Center for MS took home a Best Practices Honor. Take a look at photos from the ceremony.
In addition, winners may be:
•Featured in the media
•Promoted in company internal and/or external communications vehicles
•Recognized by community leaders
•Better positioned to distinguish themselves from competitors
All applicants will benefit from objective feedback in writing from a team of trained, professional psychologists and graduate students. The evaluation process will consist of several steps, including an online application and an on-site visit and evaluation.
With 65 percent of U.S. employees citing work as a significant source of stress and more than one-third reporting that they typically feel tense or stressed out during the work day, work stress can affect both individual well-being and organizational performance. This video highlights employees experiences at work and how they cope with the stressors they face on the job.
Do you know an organization that deserves this honor? The application process starts here. The deadline for applying is August 15. Additional information about the program and previous winners is available on the OPA website.
Located in Columbus, OH, The Ohio Psychological Association is a membership organization of approximately 1,600 Ohio psychologists. Its mission is to advance the creation, communication and application of psychological knowledge to benefit society and to improve people's lives in Ohio. For more information, or for a psychologist referral, visit http://www.ohpsych.org.