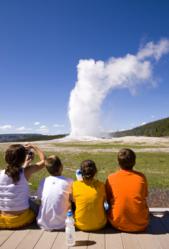 The measure is not how many family vacations you take but the number that take your breath away.
Tampa, Florida (PRWEB) June 07, 2013
Summer family vacation time is precious it is pointless to spend a minute or a dime on predictable and boring activities in places without a vacation WOW! Factor. Family adventure vacation ideas span the planet and always include awesome, not-to-be-missed moments which create lasting memories made so much better because they are shared.
"The measure is not how many family vacations you take but the number that take your breath away – the number with a WOW! Factor. For memory making it is truly quality not quantity," according to Nancy Nelson-Duac a self-described WOW! Factor sleuth and co-founder of theFamilyTravelFiles, an online family vacation planning website.
The Adventure Folder at Family Travel Files features dozens of amazing family vacation ideas guaranteed to yield unique memories in locations of timeless beauty. The places highlighted in the folder will impress even the most jaded adults and generate a WOW! from the kids.
Just exactly who delivers on the WOW! Factor for families? The informative list includes a rich variety of not-to-be-missed family adventures in places which span the globe. Southern West Virginia offers the New River Gorge and ACE Adventure Resort where families can raft, bike, zip, climb and more. Also on the list are hiking and biking in the Alps with Lucerne based ECHO Trails and Canada's Bay of Fundy with friendly residents, great seafood and best of all - a chance to walk on the ocean floor. The American West delivers the WOW! Factor with stargazing along he the rim of the Grand Canyon in Arizona and Yellowstone's Old Faithful plus easy access to amazing natural beauty of Wyoming.
Completing the dozen WOW! Factor summer family adventure list: diving at Monterey Bay Aquarium in California; dolphin encounters in the Florida Keys; looking for dinosaur bones in Alberta; airboating in Central Florida; sleeping with caribou in Quebec; joining a turtle quest in Florida.
More terrific family vacation ideas may be viewed at theFamilyTravelFiles.com or for the latest family travel news follow The Family Travel Files on Twitter (@FamTravelFiles) straight from the homepage.
About theFamilyTravelFiles.com. Founded in 1998, theFamilyTravelFiles.com is one of America's top-rated online family travel resources offering more than 1000 pages of family vacation ideas and trip planning information. The website specializes in family vacation ideas, destination and planning information, family travel advice, and family travel deals. The site features a number of vacation idea folders including Family Adventures, Tours, Secret Places, All Inclusive, Beaches, Mountain Tops, CampOut, and Family Golf each loaded with great family vacation ideas.