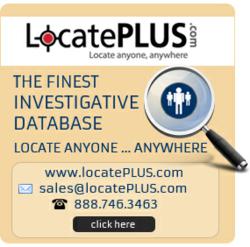 We are anxious to get this vastly improved release into the hands of our customers. LocatePLUS continues to grow in this highly competitive environment.
Boston, Massachusetts (PRWEB) June 07, 2013
LocatePLUS, the leading provider of cost effective, personally identifiable information in the US, is providing a limited distribution of their latest website and re-designed interface.
The purpose of the testing phase is to harness the full potential its re-designed website and data retrieval system.
The new website will include 25 new searches, the latest databases, new reports, easier navigation, Google integration, greater functionality, quick tips and more.
"Built on the latest technologies, the LocatePLUS limited Beta Release has been distributed to a group of users who were eager to experience the latest enhancements to our data retrieval system and the new, easy to use format," said Ronald Lifton, LocatePLUS CEO. "Private beta testing is all about validating and perfecting the online experience for our clients," said Lifton. "We are anxious to get this vastly improved release into the hands of our customers fine-tuned and ready to go as we continue to grow in this highly competitive environment."
Credentialed businesses or individuals in any applicable industry will gain access to and benefit from this data.
The search results include full SSNs, DOBs, MVR, businesses, people, assets, licenses, court records (criminal/civil), phones, prior residences, real estate holdings, recorded bankruptcies, liens, judgments, and more in a secure, interactive, searchable database.
Private investigators, process servers, lawyers, collection agencies, financial institutions, law enforcement professionals, and government agencies are encouraged to experience the superior data, accuracy and world class free "VIP" technical support and customer service from LocatePLUS.
About LocatePLUS:
LocatePLUS, located in Boston, Massachusetts provides online investigative data solutions to law enforcement agencies, professional investigators, law enforcement professionals and other credentialed businesses.
Our LocatePLUS product contains reliable, searchable and cross-referenced public information on individuals and businesses across the United States.
With no annual contracts, sign up fees, or cancellation fees, LocatePLUS offers Unlimited Person Search for only $39.95 per month.
For more information, visit the Company's Website at: http://www.locateplus.com