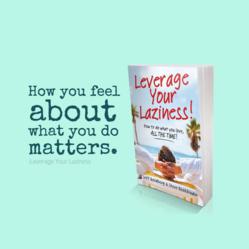 Concise, and compact, yet comprehensive Leverage Your Laziness! is an important tool for the established entrepreneur, for successful leaders, for life coaches, and for those who "wanna be" rich and famous. Richard R. Blake
New York, NY (PRWEB) June 06, 2013
Is being lazy synonymous with being unsuccessful? What power, if any, does laziness hold?
To address these questions and more, Steve Bookbinder, CEO & co-founder of Digital Media Training, has announced the release of the book, Leverage Your Laziness: How to do what you love, ALL THE TIME!
Finally! A book that contains:

Strategies for both the lazy and the hardworking who want to lead meaningful lives and rewarding careers
The expertise and "know-how" of two lazy yet successful entrepreneurs
Simple and actionable concepts that can be used to leverage one's inner laziness
Tips on finding something to be passionate about
Readers will gain an understanding of how their inner laziness can be channeled to achieve great things and break free from conventional wisdom.
"This book describes the path I used to launch a successful company in the middle of the recession, which is why I am so excited to share my experience with everyone. Building a plan that relies on continued laziness rather than depending on suddenly reinventing yourself into a new person with great new skills is more likely to work for most people… Properly leveraged, laziness allows you to play to your biggest strength, which is a proven strategy for success." – Steve Bookbinder.
"Steve and I wrote the book because of our inherent desire to share the "Lazy" philosophy with the world. Most people spend their days working at jobs and tasks they hate, or are not very good at. Successful people have figured out that they're the happiest, and most productive, when they focus on the things that they're good at and enjoy doing. We want everyone to go forth and be lazy!" – Jeff Goldberg.
Their goal for the book was to have it completed and released before National Lazy Day on August 10th. They are proud to say that they have accomplished that goal, and the book was released on June 1st. Lazy people can meet deadlines in advance, too.
About the Authors:
Steve Bookbinder is the co-founder and CEO of Digital Media Training, a global training company and leader in m-learning (e-learning pushed out through mobile devices.) His background is in sales, sales management and coaching. He's trained more than 30,000 people. Steve first began leveraging his laziness when he turned his hatred of writing proposals into a winning strategy for closing sales. Eventually, he expanded the principle to every aspect of his life. The result: Nearly 100% of his time is spent on doing something he loves, which helps make him more productive and successful.
Jeff Goldberg is a professional speaker, sales consultant, trainer and coach. He is the founder of Jeff Goldberg & Associates, a successful sales consulting and training firm. He uses his passion for personal growth and development and inner "beach bum" laziness to motivate others and help sellers see measurable results from training.
Contact Steve Bookbinder: steve(at)dmtraining(dot)net
Company Website: http://www.dmtraining.net
Contact Jeff Goldberg: jeff(at)jgsalespro(dot)com
Company Website: http://jgsalespro.com/