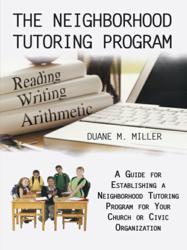 The potential for faith-based or other civic organizations to positively impact major problems in our society is greatly undervalued
Gainesville, Virginia (PRWEB) June 07, 2013
When Duane M. Miller saw that many young people in his neighborhood did not have access to academic resources necessary to succeed, he decided to do something about it. His plan is detailed in his new book "The Neighborhood Tutoring Program."
Miller identified a way to bring critically needed academic tutoring services to students who usually do not have access to existing resources due to financial, transportation or other related issues by starting an on-site, volunteer-run program called the Neighborhood Tutoring Program (NTP).
"The potential for faith-based or other civic organizations to positively impact major problems in our society is greatly undervalued," he says. "There exist non-public solutions to many problems that we currently tend to turn over to various levels of government for resolution. The result is often a very expensive, partial solution that is controlled by forces operating outside of the affected communities."
Miller's program is a plan is for faith-based organizations, such as churches, or other civic-minded organizations, to partner with the NTP in establishing free, on-site tutoring programs. These sponsoring organizations will eventually become owners and operators of these tutoring programs, which will be run completely by volunteers. It provides a way for community members to be directly involved in bettering the lives of local students.
In his new book "The Neighborhood Tutoring Program: A Guide for Establishing a Neighborhood Tutoring Program for Your Church or Civic Organization," Miller provides a detailed, clear guide for interested organizations to use while establishing and operating their own on-site tutoring programs. With this plan, communities all over the country can establish a tutoring program to transform students in their community.
An experienced educator, Miller uses his expertise in his field and background with community organizations to provide a detailed blueprint for a successful program in similar communities around the country. With programs like the NTP, volunteers have the opportunity to transform lives around the country.
For more information, visit http://www.neighborhoodtutoringprogram.com.
"The Neighborhood Tutoring Program: A Guide for Establishing a Neighborhood Tutoring Program for Your Church or Civic Organization"
By Duane M. Miller
ISBN: 978-1-4627-2444-4 (sc); 978-1-4627-2446-8 (hc); 978-1-4627-2445-1 (e)
Softcover, $8.99
Hardcover, $28.95
Ebook, $3.99
Approximately 108 pages
Available at http://www.amazon.com and http://www.barnesandnoble.com.
About the author
Duane M. Miller earned an education degree in 1966 and served in the U.S. Air Force for twenty-two years. After retiring from the USAF, Miller taught in a variety of capacities while formulating his model for neighborhood tutoring programs, which got their start in the Washington, D.C., metropolitan area. He currently lives in Virginia, from where he directs the nation-wide Neighborhood Tutoring Program.