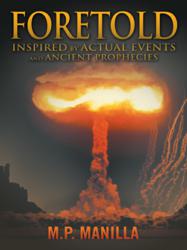 'Foretold' is the result of my career as a journalist and of my lifelong interest in Pre-Columbian history and culture
Sarasota, FL (PRWEB) June 07, 2013
Do special interests influence government decisions more than we know? These interests could never override the safety of American citizens – or could they? This is the premise of "Foretold," a suspense thriller by M.P. Manilla about the special interests that influence government decisions on nuclear. A former reporter, Manilla's novel is based on research compiled over years, to warn Americans of the potential danger that comes with the government's nuclear storage, specifically at Yucca Mountain, Nevada.
"'Foretold'…was 'inspired' by and based on interviews with nuclear physicists, geologists, representatives of major environmental groups, legislators and Native American historians and staff members at the Smithsonian Museum of the American Indian," says Manilla. "In effect, 'Foretold' is the result of my career as a journalist and of my lifelong interest in Pre-Columbian history and culture."
From Manilla's research, she found that an ancient Native American prophecy predicted the threat of nuclear disaster on American soil. She also found that the United States government planned to build a storage repository for volatile nuclear waste under Yucca Mountain, despite warnings from nuclear physicist, geologists and environmentalists. Her research showed that the site was one of the most dangerous places for nuclear waste to be stored, as it is located in the third most active earthquake zone on the continent, in an area crisscrossed by thirty-three fault lines and located over a huge aquifer of underground water.
With this information, as well as reports about terrorists' attempts to obtain nuclear material, Manilla created the story in "Foretold."
The novel reinforces the importance of standing up for our environment and our safety, especially when special interests might influence the government, and shares the mysteries and mystical role of Native Americans and their ties to nature. Additionally, "Foretold" speaks in a timely way to the threat of terrorism in our world today and smart steps we can take to saving ourselves from it.
"Foretold"
By M.P. Manilla
ISBN: 978-1-48170-050-4 (sc); 978-1-48170-051-1 (hc)
Softcover, $19.95
Hardcover, $28.99
Approximately 320 pages
Available at http://www.amazon.com and http://www.barnesandnoble.com.
About the author
M.P. Manilla has been twice nominated for the Pulitzer Prize and holds twenty-eight awards from national and international film festivals. A native New Yorker, the author now resides in Sarasota, Fl., and is completing a second novel while working on a third novel, a film script and a documentary about the Seminole wars with Planet Group Entertainment, a global film distribution and production company.