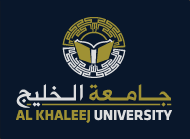 (PRWEB) June 06, 2013
Al Khaleej University has recently been ranked amongst the top 3 online universities to make positive contributions to the education sector in the entire MENA region. A survey conducted by a conglomerate of international accreditation agencies stationed around the world has attributed the growth to the following factors: affordability, quality of education and convenience.
According to the survey, this ranking is testament to Al Khaleej University's commitment and dedication towards providing students around the globe with high quality online education and the chance to achieve their academic and professional goals. In the previous year alone, over 18,000 students enrolled in Al Khaleej University, thus highlighting the preference of many students for Al Khaleej over other online universities claiming to offer the same benefits. This, in turn, increased the University's rating by 40 percent during the academic year 2012.
John V. Radford, Communications Director of the University, says: "This report reflects Al Khaleej University's genuine efforts to provide students with education that adheres to global standards of quality all the while minimizing the financial constraints, especially on working adults. An organized committee is exclusively dedicated to monitoring our financial assistance program that is made available to students every year. An increased collaboration between international universities and governments has played an important catalyst in making this happen. Al Khaleej is an international initiative that is focused on boosting educational standards in GCC countries."
Radford added, "Because of the excellence, diversity and affordability that Al Khaleej University offers, more students worldwide are choosing to study with us. Our faculty, drawn from some of the world's top learning centers, provide students with the needed insight to successfully take up challenges faced in the corporate environment." He also said that Al Khaleej is proud to have surpassed top universities when it comes to affordability. "Scholarships covering 90 percent of the fee are generously awarded to competent students, which certainly makes Al Khaleej University the top choice in online education."
Al Khaleej University remains deeply committed to excel as the world's best online education provider. The University aims to facilitate working adults and job seekers in their academic and professional endeavors by continuing to disseminate quality education at an affordable price. In addition, the University aims to pave the way for students on their path towards career success by offering them career development services designed to help inculcate valuable skills that will help make an impression as they step into the world of business.
About Al Khaleej University
Al Khaleej, a leading Gulf based university, is the provider of high quality learning facilities and offers unparalleled education opportunities to individuals across the globe. We offer a wide array of services to our students, including student and alumni consultancy, financial aid services, credit transfers, apostille and embassy legalization, and career placement services. At Al Khaleej, we offer a spectrum of academic opportunities to students, from certificates and diplomas to graduate and professional degrees, including doctorate degree programs.