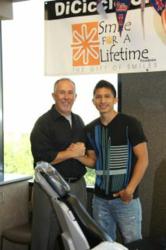 Ryan is a great kid with a definite sense of where he is headed. With the increased confidence Ryan has achieved because of his orthodontic treatment, there is no doubt that he will achieve whatever he sets out to do!---Dr. Pat DiCiccio
Fresno, CA (PRWEB) June 12, 2013
Recently, the national Smile for a Lifetime (S4L) Foundation awarded Ryan Lopez a three thousand dollar college scholarship to help pay for his schooling. This was the first college scholarship awarded by the national office and only available to S4L orthodontic scholar alumni.
Ryan will start school in the Winter of 2014 at Fresno City Community College to complete his degree in Fire Science. His connection to the national office, started when he was selected as one of twelve children to be provided an orthodontic scholarship (free braces) through his local chapter. The Fresno/Clovis Smile for a Lifetime Chapter was formed by Dr. Pat DiCiccio of DiCiccio Orthodontics.
Dr. DiCiccio shares, "Ryan is a great kid with a definite sense of where he is headed..." Despite a difficult childhood and living in a gang ridden neighborhood, Ryan managed to avoid the gangs and instead got involved in sports, volunteering and weight-lifting. Graduating from high school, volunteering as a soccer coach, moving into his own apartment and working in construction to save for college: all speak of his resolve to work toward his dream of becoming a firefighter.
Both scholarships have been life changers for Ryan whose self-confidence has soared since receiving his free braces and having the opportunity to attend college. Once his orthodontic treatment is complete, Ryan plans on giving back to the community again, by serving on his local S4L board of directors.
S4L chapters provide free orthodontics to children who are underserved across North America and Canada through a competitive scholarship program. Most of the children chosen for the program have extreme orthodontic needs and have been socially bullied by other children because of their smile. Receiving a Smile for a Lifetime scholarship is a life-changing event for those in the program by creating self-confidence and inspiring hope. The national office, in support of all S4L scholar alumni, will be taking college scholarship applications beginning the Fall of 2013. Scholarships will be limited. For more information about S4L visit: http://www.s4l.org to locate a chapter near you. Or contact Michelle at mvonfange(at)s4l(dot)org for more information.
NOTE: To see the rest of Ryan's story CLICK HERE.