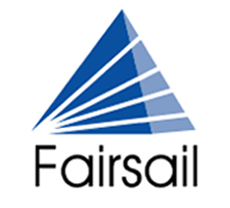 "We are delighted to be the first UK offering to be included on CompareHRIS.com, particularly as we continue to focus our attention on growing our presence in the U.S.," comments Nic Scott, CEO Fairsail.
Seminole, FL (PRWEB) June 10, 2013
CompareHRIS.com proudly announces the addition of Fairsail HR Cloud as the first U.K. based product addition to their Human Resources/Payroll software offerings. Fairsail HR Cloud provides a broad range of HR functionality from HRIS, HCM and Recruitment through Benefits Enrollment. Fairsail already has over 50 U.S. based customers and provides a broad span of U.S. specific HR & benefits functionality including support for Open Enrollment.
"We are proud to bring Fairsail HR Cloud to our site as the first "across the pond" offering and be a one-stop shop for comparing leading HRIS/HRMS and benefit administration products," states Deborah Scroggin, CEO of CompareHRIS.com. "One of our 2013 goals is to increase the number of HRIS products a visitor may review, offering a greater opportunity to find the product that best suits your organization's needs. We believe Fairsail HR Cloud, who has an office location in San Francisco, California, is a solid addition to our roster of the market's premier HRIS products."
"We are delighted to be the first UK offering to be included on CompareHRIS.com, particularly as we continue to focus our attention on growing our presence in the US. We look forward to bringing Global Workforce Collaboration to customers in America and enable them to benefit from the joined up, end-to-end HR systems we have provided to existing companies around the globe," comments Nic Scott, CEO Fairsail.
With the addition of Fairsail HR Cloud, CompareHRIS.com provides access to 18 of the industry's leading HRIS/HRMS software providers all on one site!
Visitors to CompareHRIS.com are able to use the CompareHRIS.com HRIS Selection tool and CompareHRIS.com quick compare HR Software product search to compare, or contrast, Fairsail HR Cloud with the current list of leading HRIS providers. How does this system compare with the industry's other leading HRIS and HRMS systems?
CompareHRIS.com currently offers the following free tools to assist HR Industry Professionals with their search, evaluation, selection, and implementation of HRIS or HRMS systems:
HRIS/HRMS Selection Tool - CompareHRIS.com's HRIS selection tool is comprehensive and easy to use. Customers simply answer a series of questions about their requirements and rank the importance of each. CompareHRIS.com then automatically generates a report showing ranked scores of the HRIS products that best match their needs. From there, customers may compare the features of each product side by side, view additional product details, view a pre-recorded demo or request a free trial.
HRIS/HRMS RFP Template - CompareHRIS.com users never pay a dime for the offered services. CompareHRIS.com's competitors sell an HRIS RFP template for as much as $400. CompareHRIS.com offers an extremely detailed RFP template with no charge. The template was created by an HR consultant who combined elements of the best HRIS RFP's they had seen to create an extremely comprehensive RFP document.
Over 200 articles and HRIS Industry White Papers - The CompareHRIS.com HR and payroll software article library contains over 200 helpful articles. Articles cover a wide variety of topics related to HR software including selection advice, implementation tips, and industry trend analysis. Recently added are articles about Performance Management and Recruiting software. With assistance from vendors, outside contributors and our own staff, the database continues to grow.
HRIS Blog - CompareHRIS.com believed the HR software industry and market needed a blog that covers the latest news, trends and offers advice without bias on selecting HRIS systems so they created a HR Software Blog. As opposed to other blogs for the HR software industry, HR Software Blog does not represent any individual vendor which allows the site to remain both objective and unbiased with its opinions on the industry. Please visit today and comment on any blog post that moves you!
Free HRMS Buyers Guide - The founder of CompareHRIS.com, who sold HR and Payroll software systems for fifteen years, created a ten-step plan for those looking to purchase HRIS, HRMS, or HR software systems. This buyer's guide provides "inside the industry advice" on how to find a system that best matches the needs of any organization or HR department.
Experience, focus, and attention to detail make CompareHRIS.com different than any other HRMS site on the internet.
HR Pay 'n' Time, Inc., who directly owns CompareHRIS.com, has been serving the HR community since 1997.