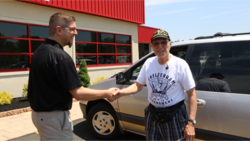 This is a wonderful thing you're doing for veterans, said Mr. Sullivan
Warminster, PA (PRWEB) June 05, 2013
Joseph Sullivan, a Korean War-era Army veteran from Hatboro, PA, was selected as the first winner of a free auto body repair job in CollisionMax's "Metal of Honor Project," the company announced today.
CollisionMax of Warminster will repair Mr. Sullivan's silver 2000 Dodge Grand Caravan, which has extensive damage on the passenger side and needs a complete paint job. "This is fantastic!" Mr. Sullivan exclaimed on hearing the news from Rich Tornetta, CollisionMax's marketing communications manager, that he had been selected. "This is a great thing you're doing for veterans," he said.
Mr. Sullivan is the first of 11 U.S. military service veterans in New Jersey and Pennsylvania who will receive a free auto body repair from CollisionMax through its Metal of Honor Project, one per month for each of its repair centers in Pennsylvania and New Jersey.
Mr. Sullivan's award was announced by Pierre Robert on radio station 93.3 WMMR, which is supporting the Metal of Honor Project.
The company chooses the winner from nominations it receives from the public on the project's web site, http://www.metalofhonorproject.com. The site is now accepting nominations for its Glassboro, NJ shop.
Mr. Sullivan, 81, completed Army basic training at Ft. Lee, Virginia, and in 1952 was posted to an Army munitions depot in France that supplied US troops. Upon returning to Hatboro, he became active in youth baseball, football and basketball as an umpire and referee, roles he continues to play after 52 years. In recognition of his service and popularity, District 11 of the CYO Basketball League t created its "Joseph Sullivan Sportsmanship Award."
"The Metal of Honor Project is our way of saying thank you and honoring the men and women of our armed forces who put their lives on the line for all of us," said Jim Tornetta, CollisionMax and president and CEO.
In New Jersey, CollisionMax operates shops in Blackwood, Cinnaminson, Glassboro, Marlton , Pennsauken, Sicklerville and Westmont. In Pennsylvania, it has repair centers in Oxford Valley, Warminster and two in Northeast Philadelphia (both on West Grant Avenue). For information about ColllisionMax, please visit http://www.collisionmax.com.