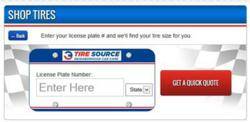 We are thrilled with this new feature. There isn't another site out there that makes it easier to 'get a quick quote' and for my salesmen to be equipped with detailed information about the vehicle.
Cookeville, TN (PRWEB) June 06, 2013
TCS Technologies, a leader in tire and automotive service internet marketing solutions, announced the launch of a first to industry feature allowing consumers to easily provide dealers their vehicle information by entering their license plate number. Consumers can request a quote on tires or services for their vehicle by entering their plate number and the form will automatically populate their vehicle's year, make and model. In addition, the dealer will receive the vehicle's VIN, engine size and trim option as a result of the license plate being entered on the web form.
The feature is currently on four retail websites participating in the feature launch. Dealers participating include BCS Tire Pros in College Station Texas, Bridgestone Firestone dealer Cannon Tire in Clarksville, Tennessee, and Goodyear Tire and Service Network dealers Tire Source in Canton, Ohio and McGee Auto Service and Tires in Lakeland, Florida. TCS is calling the launch 'phase 1' of this feature and plans to have several different releases around the feature to create the most dynamic experience possible for the user and the dealer.
Kenny Pratt, TCS Vice-President commented about the release, "Dealers frequently complain consumers are requesting a quote or more information on tires which are not suited for their vehicle. Consumers guess at their vehicle information when entering year, make, model, and option on our websites. As our team searched for a solution to bring the dealer more valid leads and opportunities via their online marketing, the license plate vehicle look-up was a perfect solution. After the consumer types in their vehicle's license plate number and submits a quote or appointment request, our tire dealers will automatically receive a verified VIN and correct vehicle data – eliminating the errors which are usually associated with year, make, and model quote request forms." TCS also offers the VIN look-up by entering license plate information in their Tire Power point of-sale software, and plans to further integrate how the feature is used between the two platforms; retail websites and point-of-sale software.
"We frequently receive quote requests from our online users who are not sure of their vehicle's year, make, model and option. Now that we are receiving the VIN from these potential customers, we are able to provide a more accurate quote on tires and services. Our managers are better equipped to advance the sale when following up on our web leads." stated Drew Dawson, Tire Source CEO.
"We are thrilled with this new feature. I have never seen another website with this feature, so it helps my site stand out from the big box shops in my area. There isn't another site out there that makes it easier to 'get a quick quote' and for my salesmen to be equipped with detailed information about the vehicle." said Amir Hirani of BCS Tire Pros.
The license plate vehicle look-up feature is available to all TCS website customers on the new platform as well as TCS is offering the new feature at no additional cost to all new customers who sign on before July 1. Interested parties can contact TCS Technologies at 1-888-449-8473, email sales(at)tcstire(dot)com or visit http://www.tcstire.com.
The new feature can be found by visiting one of the participating dealer sites at:
http://www.mcgeetire.com
http://www.yourtiresource.com
http://www.bcstirepros.com
http://www.cannontire.net
About TCS Technologies
TCS Technologies, a Microsoft Certified Partner, develops and markets both off-the-shelf and custom tire software solutions, web applications, ecommerce platforms, and support and consulting services to tire and automotive service companies across the US and Canada. As the industries only full-service technology provider, TCS has built a product base, which continues to prove itself as a revenue increasing, business streamlining asset to any size tire or automotive service business. TCS has tools unmatched in the industry, and customization within each of its products to cater to the way tire dealers and retreaders do business. TCS's home office is located outside Nashville, TN with a second location in Salt Lake City, UT.
Contact:
TCS Technologies
888-449-8473
sales(at)tcstire(dot)com
http://www.tcstire.com
Like Us on Facebook | Follow Us on Twitter