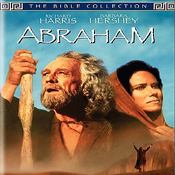 (PRWEB) June 05, 2013
On Sunday, June 9th, Trinity Broadcasting Network, the world's largest religious broadcaster and America's favorite faith and family channel, will feature the popular epic Bible movie, "Abraham," which recounts with drama and passion the remarkable story of one of Scripture's most unlikely heroes.
Starring Irish big-screen legend Richard Harris ("Camelot") in the title role, "Abraham" draws from the book of Genesis to recount God's call to a humble, elderly shepherd, and His promise to create through him a great nation that would be a blessing to the entire world. One of Scripture's premier exemplars of absolute faith in God, Abraham is promised an heir, even though both he and his wife Sarah are well beyond child-bearing age. Sorely tested through years of waiting, and even tempted to stumble at God's promise that his seed would be like the sand on the seashore, Abraham nonetheless perseveres and receives his promised son when Sarah gives birth to Isaac. But God's biggest test is yet to come, as a few years later He asks Abraham to offer his young son Isaac on the altar of sacrifice. Abraham's response to this ultimate crisis of faith — to place His commitment to God above the life of his only son — sets the stage for God's plan of salvation for all humanity.
"It is no exaggeration to say that through his faith in God — even in the face of impossible circumstances — Abraham held the the future of the world in his hands," said TBN founder and President Dr. Paul Crouch. "Because that simple, undying faith would open the door for the birth of God's only Son Jesus, whose own life, death, and resurrection has made it possible for each and every person on earth to receive salvation and eternal life. This powerful movie tells that story of passion and purpose."
With a cast that includes Emmy- and Golden Globe-winner Barbara Hershey ("Hoosiers"), and Academy Award-winner Maximilian Schell ("Judgment at Nuremberg"), "Abraham" is an exciting and unforgettable film that the whole family will enjoy. "Abraham" airs exclusively on TBN on Sunday, June 9, at 7 p.m. Pacific Time (9 p.m. Central, 10 p.m. Eastern).
For more information on the Trinity Broadcasting Family of Networks, visit http://www.tbn.org.