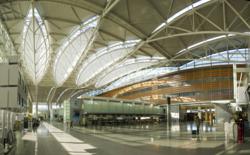 "Our goal is to offer the best parking solutions for travelers across the country..."
San Francisco, CA (PRWEB) June 06, 2013
Greenbee Parking, a key player in long term parking, has announced cheap SFO long term parking solutions for travelers using this busy airport. As one of the leading international airports SFO naturally sees a lot of footfall and this number is fast increasing every day. Along with other features, one thing that demands immediate attention is the availability and affordability of parking here. Greenbee Parking has already built up a reputation for providing clients with easy parking options when they need it most.
"Our goal is to offer the best parking solutions for travelers across the country so that they can stop worrying about parking as well as their cars every time they are on the move," said Hamant Patel - Manager, Greenbee Parking. "With long term parking options at busy airports like SFO frequent travelers can be sure of finding great parking every time they travel and enjoy best rates for them too. "
San Francisco Airport Parking Information
San Francisco airport is among the top 10 busiest airports in the US and among the top 20 in the world in terms of air traffic and passenger footfall. Hundreds of domestic and international flights fly in and out of here making it a busy and convenient gateway to millions of destinations worldwide. Though there are several public transport options to and from SFO like the BART rapid rail, Caltrain commuter rail as well as SamTrans buses, the majority of the airport transfers happen via passenger cars and rentals. Therefore, lack of good and cheap parking space is a common affliction suffered by most travelers here. With Greenbee Parking's cheap SFO long term parking solutions coming into effect however, this problem is finally being addressed. Travelers can travel in their own pace and time without worrying about availability of safe parking spots or exorbitant parking costs.
The Greenbee Airport Parking Solution
Greenbee Parking has effectively bridged the gap between parking problems and solutions at both airports and major seaports. They have tied up with major hotels for available parking spaces at discounted rates which they offer their customers across the nation.
All that travelers need to do is visit Greenbeeparking, select their city or airport of choice, choose the parking spot and pay through a secured payment gateway. There is a comprehensive list of airports and parking spots to choose from. Greenbee's wide network makes it possible for every customer who logs in to find a solution. Now with options like cheap SFO long term parking solutions travelers can save more than 75% of their parking costs.
About Greenbee Parking
Greenbee Parking is the nation's most innovative long term parking company, with a new way of making long term parking affordable. The company is rapidly adding new airports to its network.