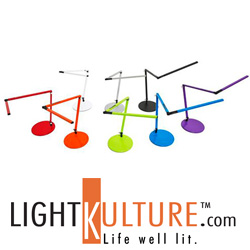 With Fathers Day on June 16th, and it also being graduation season, the Koncept Z Bar Mini makes a thoughtful gift for under $250.
New York, NY (PRWEB) June 06, 2013
LightKulture.com is pleased to offer Koncept's Z Bar Mini LED desk lamp. "Koncept Z Bar Mini LED desk lamp is packed with features that make it an essential tool for serious readers, and thoughtful gift for graduation or Father's Day," noted Susan Inderbinen President of LightKulture.com. The Z Bar Mini is a smaller scale than the original Z Bar, featuring the award winning three bar design for ultimate reach and flexibility. The super-adjustable head can spin 90 degrees at the base, 180 degrees from the top of the 12.7" main arm, and a full 360 degrees from the second and third connection points, to offer complete flexibility in any direction. The reading arm extends a full 23" to light up any work surface, computer keyboard or favorite reading material. The robust 6.5 watt LED lamping offers a warm color temperature with a rated lifespan of 50,000 hours. The built in touchstrip dimmer allows multiple dimming levels that adjust the brightness to the task at hand. The Z Bar Mini comes standard in Metallic Black, Silver, White, Red, Orange, Green, Blue and Purple to add a splash of color and personality in every task environment.
Koncept's mission remains the same since the company started in 2005: design innovative products that set high standards in the industry while making life safer, simpler and greener. Koncept has earned several prestigious awards including the red dot award for design excellence. Even the tremendous success of these exceptional LED lamps has not slowed down the Koncept team of innovators. Ideas never rest at Koncept. The Z Bar Mini offers optional accessories for optimal lighting adjustability and performance to suite any space. A 7.5" diameter base is standard, wall mount, table through mount, and clamp-on options are also available. For larger office environments, Z Bar Mini offers LEED credit eligibility for optimized energy performance, innovation in design and recycled content. An occupancy-sensor option is also available. Proper lighting is an essential tool in the workplace, and is important to alleviate eye strain at any age. Light is energy, which needs to consumed efficiently. Koncept's Z Bar Mini is the stylish solution to these conflicting demands, adding an element of color and comfort to any space.
For more information go to Koncept http://www.lightkulture.com/p-1765-z-bar-mini-gen-3-led-desk-lamp-koncept.aspx.
Super-Adjustable Koncept Z Bar Mini, LED Lighting for Dad's & Grad's Now Available at LightKulture.com
"Koncept Z Bar Mini is our go-to LED task light when the need arises. When workplace constraints dictate the need for big light in a small space, the Koncept Z Bar Mini is the right choice to make. This smaller scale does not compromise the light output. The Z Bar Mini features 6.5 watts of dimmable LED lighting, all in a sleek contemporary desk lamp. This lamp is super adjustable and very versatile. We have used this product on a variety of projects. For example, we have recently quoted Koncept for a large scale corporate bank installation where the LEED credit eligibility in energy & atmosphere (EA), innovation in design (ID) and materials & resources (MR) are required elements. More common are our everyday sales for household use when the first requirement is the need to see better. With Father's Day on June 16th, and it also being graduation season, the Koncept Z Bar Mini makes a thoughtful gift for under $250. The Z Bar mini is not only practical; it is also easy to use and striking to look at. It really adds a touch of style and the option to add a splash of accent color. Dads may prefer the neutral tones, while grads may want to choose the color of their alma mater," noted Susan.
About LightKulture.com
At LightKulture.com our mission is to offer the finest energy-efficient contemporary lighting and light fixtures from around the world. We have assembled an exciting collection of the industry's most innovative decorative and architectural lighting. We are proud to offer lighting solutions for both your home and work-life environments. Simplicity in design is complicated, function makes it last. Be inspired by our range of essential designs from well respected American and European manufacturers. In today's world, energy-efficient lighting is as important as eco-friendly or green lighting fixtures, such as LED or CFL lighting. We offer the very best energy efficient lighting and light fixtures, both high value LED lighting fixtures and CFL lighting fixtures in modern and contemporary styles that provide quality, innovation and authenticity.
LightKulture.com
http://lightkulture.com
Email: sales(at)lightkulture(dot)com
Tel. 941-330-0422