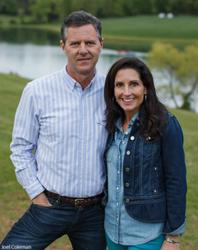 Lynchburg, VA (PRWEB) June 05, 2013
As Liberty University continues to establish itself as a health and wellness leader in the community, it is working with local leaders and other area institutions to find more ways to encourage healthy living.
For the second year, Liberty is encouraging students, faculty, and staff to take an active role in Live Healthy Lynchburg, a campaign sponsored by the city of Lynchburg that is committed to promoting overall wellness, including diet, exercise, education, and prayer.
Liberty has volunteered to host the next Live Healthy Lynchburg meeting on its campus June 14, welcoming other colleges from around the area to share ideas and compare programs and resources to promote health and wellness in the community. Guests will tour Liberty's extensive recreational facilities as well as learn about and sample several healthy dining options offered at Reber-Thomas Dining Hall.
"What this partnership between Liberty, Lynchburg, and other local institutions hopes to achieve is a more health-conscious culture in the community — similar to what we are seeing take place at Liberty," said Lee Beaumont, Liberty's vice president for Auxiliary Services. "We hope this will lead to a better quality of life in the community as people become better educated and motivated to live healthier lives."
Many members of Liberty's administration have led the way, including Chancellor Jerry Falwell, Jr., who has lost 55 pounds over the past year thanks to a complete lifestyle change that includes eating healthier and regular exercise. He and his wife, Becki, work out together two days a week. They were recently featured in a WSET television interview.
Live Healthy Lynchburg is currently promoting its Strive for Five Challenge, which encourages people to work out for at least 30 minutes five days a week. Liberty is currently the leading organization with the most collective hours logged.
Last fall, Liberty encouraged its staff to participate in Live Healthy Lynchburg's 100 Mile Challenge and Virginia 10-Miler and 4-Miler races. As further incentive, Liberty paid the entry fee for staff members who signed up. Liberty finished third out of more than 90 companies for most miles logged in the challenge. Mark Hopely, a Liberty staff member, tallied more miles than any other individual in the challenge. Liberty was also dominant in the corporate challenge, finishing first in four of the six categories in the 10- and 4-Miler events.
Liberty will encourage employees to participate in 100 Mile Challenge and races again this year and will pay entry fees.
Across campus, Liberty has continued to show its commitment to a holistic approach to wellness — providing opportunities to grow in body, mind, and spirit.
The university offers many spiritual development opportunities, from Bible studies to Campus Church and worship with the Campus Band. Faculty, staff, and students are immersed in a Christ-centered culture with mentorship and friendship opportunities. Liberty even has a community for online students.
In terms of physical health and wellness, Liberty is unmatched in the region in its offerings.
Several healthy dining options are offered daily across campus, including at Reber-Thomas Dining Hall and the Tilley Fresh Market Buffet. Sodexo, Liberty's Dining Services Provider, displays signs at all of its food stations giving nutrition information. Liberty even offers meal plans for its staff. For special dietary concerns, the "Simple Servings" station offers minimally processed, tasty food options prepared without gluten or seven of the eight most common food allergens.
The university is currently developing a community garden where students can grow fresh produce to be used in the dining hall and is building local partnerships for more fresh food options.
Sodexo recently partnered with MyFitnessPal, a free app for counting calories and monitoring diet and exercise. It also offers an array of cooking workshops and wellness seminars every semester.
To ensure all students, faculty, and staff are encouraged to stay active, Liberty has a plethora of recreational opportunities, including the LaHaye Student Union, which features a pool, basketball courts, expansive weight room and cardio area, rock climbing wall, and several multipurpose fitness rooms; the Liberty Mountain Trail System, which offers 65 miles of trails spanning 5,000 acres; Liberty Mountain Skate Park; Liberty Mountain Snowflex Centre; the LaHaye Ice Center; intramural sports; as well as many fitness challenges throughout the year. Several of these facilities are open to the community.
Staff members can utilize the LaHaye Student Union workout facilities during morning hours for free and so many have taken advantage of this that administration is planning to extend these hours and expand the facility.
As Liberty continues to upgrade its residential campus with a $400 million campus rebuilding, the university's fitness and recreational offerings will be enhanced.
A massive expansion to the LaHaye Student Union will add 67,000 square feet and renovate 19,000 square feet of existing space in the university's primary workout facility. This includes a new exercise and workout room with a greater quantity of top-notch equipment for all fitness levels. A mezzanine level with exercise equipment will face Liberty Mountain for a stunning view. This project also includes a new rock climbing wall, racquetball courts, and more multipurpose areas for exercise classes.
The university may also utilize its 81 acres of flat land island property on the James River for athletic fields for both university and community use.
"Many health issues facing our community are due to poor diet and lack of exercise. The best way to solve the health care crisis is for people to eat well, exercise, and take care of themselves," Beaumont said. "Not only does this make people physically healthier, research shows they feel better, are happier, and are more productive at work and in the home. This makes them a better asset to the community."
About Liberty University:
Liberty University, founded in 1971, is the largest private, nonprofit university in the nation, the largest university in Virginia, and the largest Christian university in the world. More than 100,000 students attend classes on its 6,800-acre residential campus and study in its thriving online education program.