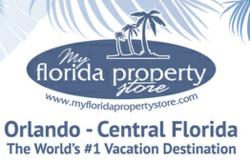 Orlando, FL (PRWEB) June 06, 2013
My Florida Property Store, leading real estate group for out-of-state clients and foreign nationals in Central Florida, outlines the benefits of acquiring vacation homes as investment properties.
With the American economy gradually making a comeback, now is the time to buy. Home prices in Central Florida are some of the most favorable in the country. According to the Orlando Sentinel, the median price point for a home in Orlando was a mere $140,000 as of March 2013.
Purchasing a vacation property is a low risk method to diversify an investment portfolio. Vacation real estate allows for a relatively high and reliable return on investment, when partnering with an experienced marketing and management company. Central Florida is an especially promising location for a vacation home, with homeowners in Orlando having the option to rent year around due to a high demand for accommodation in the region. This exceptional demand is in large part attributed to the Walt Disney World resort, Universal Orlando Resort and SeaWorld, three of the world's most famous attractions. As a result, Central Florida carries the title of the World's #1 Vacation, attracting millions of visitors from around the world. With over 55M visitors in 2011 and a projected increase due to be announced for 2012 in June, family friendly Orlando boasts something for everyone – world class restaurants, premier outlet shopping, five-star spas, state-of-the-art sports facilities, luxurious golf courses and of course a beautiful climate.
With the assistance of My Florida Property Store's skilled agents, potential buyers can easily break into vacation real estate investment. My Florida Property Store boast a wealth of luxury listings to ensure its customers receive the most coveted homes in Central Florida. Visit http://www.myfloridapropertystore.com to start a property search.
About My Florida Property Store:
My Florida Property Store (MFPS) specializes in the representation of foreign national and out-of-state clients in the buying and selling of investment properties, for short-term or long-term rental. MFPS boasts an extensive database of Villa Style Homes, Condos And Town Homes in Central Florida with a focus in Celebration, Davenport, Dr. Phillips, Kissimmee, Reunion, Windermere, the Metro Disney area and Lake Nona – "Medical City" corridor. The MFPS team is fully familiar with local customs in multiple countries around the world which is essential in order to communicate detailed local purchase information in an easily understood, simplified and explainable fashion. My Florida Property Store is a member of the Osceola County Association of REALTORS® and the National Association of REALTORS®.