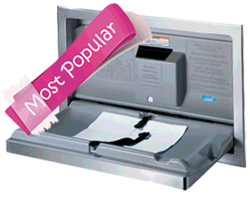 (PRWEB) June 10, 2013
The KB110-SSRE is a product of Koala Kare, one of the most trusted names in the childcare industry. It has long been a part of the selection offered by Babystations.com, a trusted online retailer best-known for selling quality baby changing stations. However, recent improvements made by the company in key areas of its operations have allowed it to save a significant sum, which it intends to pass on to its valued customers. Babystations.com intends to do this by offering price drops on a number of its most popular products, which include the KB110-SSRE.
The model is clad in stainless steel, and can be mounted in a recess on restroom walls. Despite the metal exterior, the KB110-SSRE's interior is made from FDA-approved high-density polyethylene. This plastic bed surface is coated with a layer of Microban® antimicrobial, which makes it resistant to both noxious odors and harmful bacteria. When properly installed, the product can easily meet ADA and ASTM standards. Its internal gas spring mechanism also helps in making the KB110-SSRE smooth and easy-to-operate. All of these features are designed to make the baby changing station much more suitable for public use.
The KB110-SSRE also comes equipped with a built-in bed liner dispenser, bag holders on each corner, and a high durability child protection strap that keeps the user safely in place. Architects and building designers will also be pleased to know that the product is built with 56% recycled materials, which will contribute to the structure's LEED credits. With its sleek design, durability, and convenience, the product is sure to improve any restroom's design and functionality.
Aside from theever-popular baby changing stations, Babystations.com also offers a variety of child seating options, as well as other childcare accessories. The company was founded by three proud dads, Cameron, Matt, and Jerry, who thought (and later proved!) that they could do a better job of answering the needs of their fellow parents.
About the company: Babystations.com is managed by Ekom.ca. It is an online retailer with a long history of trusted service. They sell a wide array of products that include baby changing stations, child seating, and other childcare accessories. Despite being a product-based business, the company understands the value of providing quality customer service. They provide detailed product information, give out the best prices, do their best to ease purchasing difficulties, and respond to complaints, questions, and products in the timeliest manner possible.