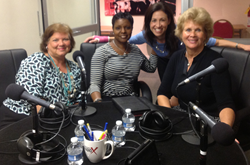 The WPO chapters were designed with diverse backgrounds and industries...
Atlanta, GA (PRWEB) June 06, 2013
On Tuesday, June 4th, 2013, co-hosts Lee Kantor and Dana Barrett of Results Matter Radio on Business RadioX® were joined in the studio by Phyllis Newhouse with Xtreme Solutions, Randy Satterlee with VanRan Communications and Tanya Mack with HealthGate and Telehealth to discuss the Women Presidents' Organization.
The Women Presidents' Organization (WPO) is a non-profit membership organization for women presidents of multimillion-dollar companies. Members of the WPO take part in professionally facilitated peer advisory groups in order to bring the 'genius out of the group' and accelerate the growth of their businesses. Through global, confidential and collaborative peer-learning groups, the WPO accelerates business growth, enhances competitiveness, and promotes economic security. It is the ultimate destination for successful women entrepreneurs.
First to discuss her role with WPO was Tanya Mack, President of HealthGate and COO of Women's Telehealth. HealthGate is an online, e-commerce site that offers discounts for medical services direct to consumers at 25-75% savings. Women's Telehealth is a high-risk OB telemedicine service company that provides high risk OB specialist services to patients in underserved areas so they can be safely managed in their home community the majority of the time via telemedicine and Bluetooth technology. Mack also hosts The Doctor's Roundtable radio show that airs on Thursdays at noon on Business RadioX® and addresses a variety of health care topics.
Mack explained that each WPO chapter has about twenty members, all from different verticals, rather than competitors.
Next up was Phyllis Newhouse, President and Owner of Xtreme Solutions, Inc. (XSI), an end-to-end Information Technology/Professional Services & Solutions provider that is passionate about helping their clients become more innovative, efficient and competitive by seamlessly integrating groundbreaking, next generation technologies into their existing environments. They provide solutions to businesses of all sizes, across a broad range of industries within the government, commercial, and academic sectors. Newhouse has worked for Fortune 100 companies as well as small businesses. She is a member of the National Association of Women Business Owners (NAWBO) and the Women Presidents' Organization (WPO).
Newhouse explained that the average revenue of WPO members' companies is $2 million a year. Newhouse went on to say, "The WPO chapters were designed with diverse backgrounds and industries which brings a good opportunity for shared experiences."
Rounding out the discussion was Randy Satterlee, Founder of VanRan Communications, a full-service, converged voice and data telecommunications company specializing in voice, data, IP, network services and wiring. Established in 1986 as a national certified woman-owned business, VanRan is an Authorized AVAYA Business Partner and AT&T Agent. They offer complete systems, parts, upgrades, installation and maintenance designed to fit business needs and help leverage communications as a strategic asset. Satterlee is a member of Global Executive Women, National Association for Women's Business Owners and the Women Presidents' Organization. According to Satterlee, an 8-year member of WPO, "A lot of the business ventures we've rolled out have been supported by the WPO."
To learn more about the Women Presidents' Organization and these featured guests, listen to the complete interview on Results Matter Radio.
About Burr & Forman's Results Matter Radio:
http://resultsmatterradio.businessradiox.com/
Results Matter Radio brings you pertinent business information and real life solutions to help drive desired results – whatever your business may be. We interview Business Leaders and Trusted Advisors about the most important issues in Commercial Real Estate, International Commerce, Healthcare, Family Business, Corporate Litigation, Finance, Philanthropy, Estate Planning, and more.
About Business RadioX® :
Business RadioX® provides a turnkey solution for business owners who want to leverage the power of internet radio to meet their best prospects, establish credibility for their organization and heighten the placement of their brand in search engines rankings. With a professional venue and a proven formula, Business RadioX® helps hosts podcast their shows and create a regular stream of dynamic content to share with their prospects and feed the search engines every week. Programs are recorded and streamed live to the internet from our studios in the greater Atlanta area. For more information or to hear a live show, visit: http://www.businessradiox.com.