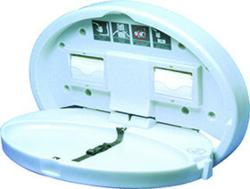 (PRWEB) June 12, 2013
The Precious Gard Baby Changing Table is a product of Hospeco, a leading manufacturer of personal care restroom products. The company was founded in the year 1919, and has been in business for almost a full century. Throughout the years, it has made a name for itself in manufacturing products that serve a variety of needs ranging from healthcare to hospitality. The Precious Gard Baby Changing Table features a compact wall-mounted design that ensures the child-user's safety by keeping him close to the attending parent. When installed properly, it can easily meet the standards required by the American Disabilities Act (ADA). A perfect addition to any public restroom, you can now get your own Precious Gard Baby Changing Table for only $219.00.
Over the years, Babystations.com has adhered to strict standards regarding quality customer service. Although the company mainly deals in providing quality products at affordable prices, the team of dads that manage Babystations.com makes it a point to focus on the human element of every sale. Cameron, Matt, and Jerry, the website's founders, believe that real-life dads are better able to answer childcare needs than other companies who simply do not have that kind of parenting experience. As a testament to their dedication, the team has resolved to forego the potential profits associated with recent improvements in operations, and to pass on these savings to its customers.
About the company: Babystations.com is managed by Ekom.ca. It is an online retailer with a long history of trusted service. They sell a wide array of products that include baby changing stations, child seating products, and other childcare accessories. Despite being a product-based business, the company understands the value of providing quality customer service. They provide detailed product information, give out the best prices, do their best to ease purchasing difficulties, and respond to complaints, questions, and products in the timeliest manner possible.