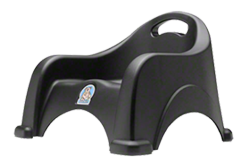 (PRWEB) June 13, 2013
The KB327 was conceptualized by Koala Kare designers as a restaurant booster seat. It has a smooth ergonomic design with a rounded back and comfortable armrests. Its sleek and stylish look makes it the perfect addition to any modern restaurant. The pack features two individual seats with a space-saving stackable design. It weighs a total of six pounds when shipped. Each KB327 seat measures 16.25" in width, 7.5" in height, and 11.5" in depth. The seats are designed to accommodate children 3 years or older.
Like all other Koala Kare products, the KB327 is constructed with careful consideration for safety and functionality. The seat is made of high-density polyethylene coated with the odor-and-bacteria-reducing Microban® antimicrobial. The safety strap feature, which allows the seat to be fastened to an adult dining chair, promotes child safety by ensuring that the product stays in place. The product is even ASTM approved.
Because Babystations.com was founded by a team of actual dads, it prides itself in knowing the real needs of a child. The company makes it a point to not just sell quality products at affordable prices, but also to provide the best customer service that it possibly can. In fact, the recent price drop is a very good example of the team's dedication to this philosophy. Instead of selfishly enjoying the significant savings attributed to improvements in the operational system, the Babystations.com team has resolved to pass these savings on to its customers.
About the company: Babystations.com is managed by Ekom.ca. It is an online retailer with a long history of trusted service. They sell a wide array of products that include baby changing stations, child seating products, and other childcare accessories. Despite being a product-based business, the company understands the value of providing quality customer service. They provide detailed product information, give out the best prices, do their best to ease purchasing difficulties, and respond to complaints, questions, and products in the timeliest manner possible.