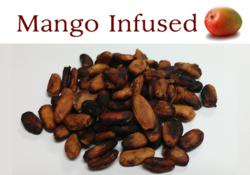 These beans are perfect for snacking and for artisan chocolate making.
Los Angeles, CA (PRWEB) June 05, 2013
Cocoa Family introduces its newest product, Artisan Fruit-Infused Cocoa Beans. These are 100% organic, sun dried cocoa beans, fermented with tropical fruits and spices.
These beans are perfect for snacking and for artisan chocolate making. They contain all the nutrition of raw, organic cacao with the added flavors of bananas, mangos, oranges, pineapples, and chili. The Company's Artisan Fruit-Infused Cocoa Beans are processed under strict guidelines ensuring maximum flavor, freshness and all of the nutritional benefits of cocoa while keeping bacterial growth at a minimum for a safe raw food diet.
Rich flavor is developed during fermentation. Adding these fruits and spices during the fermentation process, while the cocoa beans are still wet, fresh from the pod, and still covered with pulp, allows for the infusion of the fruit and spices with the cocoa beans.
About Artisan Fruit-Infused Cocoa Beans
Unlike other cocoa beans opened in the field, these beans are taken directly to be sun-dried in sterile conditions away from insects, birds, and other polluting elements. This is especially important for those following a raw diet because it minimizes the opportunity for bacteria to develop. This process also allows Artisan Fruit-Infused Cocoa Beans to retain some pulp on the beans for added flavor and nutritional benefits.
For the Artisan Chocolate maker, these beans offer exciting new flavor opportunity. These beans already contain characteristics of fruits they've been infused with, which gives a chance for chocolatiers to experiment with flavors without any extra additives.
About Cocoa Family
The Cocoa Family supplier is located in Duarte, California with farms and processing plants in the Dominican Republic. For decades Cocoa Family has provided raw cocoa products for the U.S., Europe, and Middle Eastern markets. Their products are certified organic and kosher providing ingredients to wholesalers and manufacturers of chocolate, confectionary, nutritional supplements, and cosmetic products. The Artisan Cocoa Beans will be available in limited quantities upon the next harvest.
Contact
To learn more about Artisan Fruit-Infused Cocoa Beans and reserve your order, please contact (800)736-1701 or visit http://www.cocoafamily.com