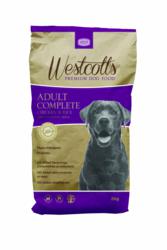 (PRWEB UK) 7 June 2013
Creative marketing company Graphic Evidence are commissioned to continue their ongoing work with the Animal Health Company after the success of the Karma for Chickens marketing campaign.
Specially developed for the competition show dog, new premium dog food Westcotts provides a range of additional benefits for canines with skin complaints and specific dietary requirements. Containing the popular supplement HyperCoat Prime, also from the Animal Health Company, the luxury dog food contains essential omega oils needed to maintain a healthy skin condition and show winning coat.
Graphic Evidence's talented team of graphic designers created an engaging and informative packaging design to ensure the new product stands in store. The stylish design reflects the luxury product and is informative for owners by including a feeding guide and extensive list of the benefits of feeding it to competition dogs and those who suffer with skin complaints and dietary requirements.
Graphic Evidence's PR and marketing team will be implementing a strategic public relations and marketing campaign for the new product launch including: advert design and placement, copy writing for editorial and press releases, and various other online promotions.
For more information on Westcotts please visit http://www.animal-health.co.uk
Graphic Evidence have a wide range of experience in website design, branding, packaging design and public relations. For more information and to see examples of our completed projects please visit http://www.graphicevidence.co.uk