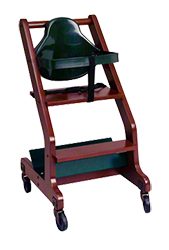 (PRWEB) June 15, 2013
The Koala Kare KB319 adds an elegant European flair to any casual or upscale dining restaurant. The unique structure, designed to mimic cherry wood, is actually made from sustainably harvested birch. It is constructed to not only be visually appealing, but also to be safe, durable, and functional. The deep green toddler seat is made of FDA-approved high-density polyethylene plastic, which is both comfortable and easy to clean. It also features a convenient lower shelf for diaper bags and purses. Its stackable design allows it to efficiently conserve floor space, while its heavy-duty casters allow perfect mobility. It is 16" wide, 31¼" tall, 20" deep, and weighs only 21 pounds when shipped.
Babystations.com is a company founded by three dads: Cameron, Matt, and Jerry. It sets itself apart from its competition not only through its quality products or super affordable prices, but also through its world-class customer service. It is a testament to the fact that actual parents know a child's needs better than other companies who simply don't have that type of real-world experience. The company's resounding success has resulted in a number of recent improvements on operational efficiency. Instead of enjoying the consequential savings however, the daddy trio has decided to pass them on to their valued customers.
About the company: Babystations.com is managed by Ekom.ca. It is an online retailer with a long history of trusted service. They sell a wide array of products that include baby changing stations, child seating products, and other childcare accessories. Despite being a product-based business, the company understands the value of providing quality customer service. They provide detailed product information, give out the best prices, do their best to ease purchasing difficulties, and respond to complaints, questions, and products in the timeliest manner possible.