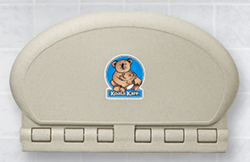 (PRWEB) June 16, 2013
The KB208, a baby changing station made popular by its distinct oval design, can now be purchased at Babystations.com for only $189.78. The current price will allow shoppers to save $18.22 on every purchase.
The KB208 is a product of Koala Kare, one of the leading manufacturers of baby changing stations around the world. This oval model comes in three colors – sand stone, grey, and granite grey. It is constructed from high-density polyethylene, and is supported by metal fixtures designed to resist daily wear and tear. Built-in safety straps ensure the child's protection, while bag hooks give the parents a convenient place to hang their belongings as they use the product. The bed surface is easy to clean, and is coated with the odor- and bacteria-reducing Microban® antimicrobial. It has a shipping weight of 20 pounds, and a dimension of 34x21 inches. When properly installed, the KB208 can even meet the standards set in the Americans with Disabilities Act (ADA).
Aside from the ever-popular changing station, Babystations.com also sells child seating products and other childcare accessories. The company was founded by three entrepreneurial dads – Cameron, Matt, and Jerry. As such, the team makes it a point to be sensitive to the evolving needs of parents. In fact, the recent price drop is a testament to this goal. Recent key improvements involving the company's operational system have made it possible for it to continue its already impressive customer service at a fraction of the cost. Instead of hoarding the additional profit produced from the aforementioned savings, the team has chosen to pass them on to its valued customers. At Babystations.com, the customer will always come first.
About the company:
Babystations.com is managed by Ekom.ca. It is an online retailer with a long history of trusted service. They sell a wide array of products that include baby changing stations, child seating, and other childcare accessories. Despite being a product-based business, the company understands the value of providing quality customer service. They provide detailed product information, give out the best prices, do their best to ease purchasing difficulties, and respond to complaints, questions, and products in the timeliest manner possible.